(October 25, 2022) --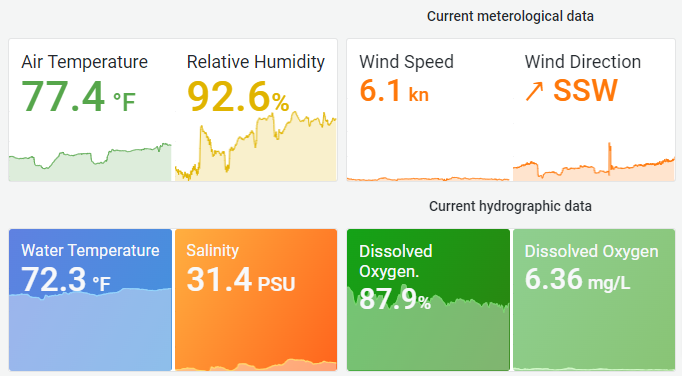 The Dauphin Island Sea Lab's marine weather center is back online with an upgrade. The infrastructure of the Alabama Real-Time Coastal Observing System, also known as ARCOS, was damaged during Hurricane Sally in 2020. 
ARCOS includes 13 weather stations with eight of those stations managed by the Dauphin Island Sea Lab. These stations provide marine weather information to everyone interested in current and historical conditions in Mobile Bay.
Through the hard work of the ARCOS technical team and support from the Alabama Center of Excellence, the network is back to pre-Hurricane Sally levels with a new user-friendly design. Responsive and interactive graphs plot live data with updates every thirty minutes. This includes air and water temperature, relative humidity, wind speed and direction, and current salinity levels.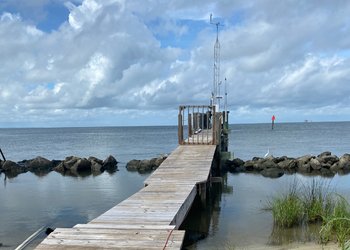 "ARCOS is a great resource for connecting people with the environment in and around Mobile Bay and with this upgrade we can now tailor the data views for the public in new and interesting ways," explained DISL's Data Architect Pat David. "For instance, producing views of specific information (temperature, wind, water temperature, salinity, oxygen, etc.) specifically for anglers, oystermen, beachgoers, and others to help connect them to the local environment. The team has really done a wonderful job of bringing the network back online but more importantly, has the resources and plans to keep it that way."
The Dauphin Island Sea Lab brought ARCOS online in 2003 to collect real-time data at weather stations placed in and around Mobile Bay. This information assists in forming effective strategies when faced with natural and man-made disasters, as well as enhancing the economy, and protecting the environment.