(September 13, 2021) --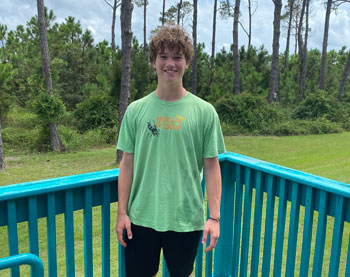 Imagine wanting to be a scientist but having only a vague idea of what that means, and then getting the chance to find out firsthand. That's the opportunity high school senior William Bird had this past summer. Bird attends Hollis-Brookline High School in Hollis, New Hampshire. He earned the Quackenbush Research Scholarship at the Dauphin Island Sea Lab. The scholarship provides students with tuition for the sea lab's summer class in marine science for high school students as well as an immersive research experience with Dr. Jeffrey Krause, a DISL senior research scientist. 
"It was a hands-on experience that I couldn't get at home," Bird shared. "It gave me the opportunity to do some laboratory research with Dr. Krause. I worked with diatoms, culturing them under different growth conditions."
Dr. Krause, DISL Senior Marine Scientist and Associate Professor in the Department of Marine Sciences at South Alabama, started the Quackenbush Research Scholarship for high school students five years ago.  It is supported through his research grants from the National Science Foundation. The scholarship is named after Dr. Krause's 9th and 10th-grade biology teacher Mr. Russell Quackenbush. He created the scholarship to provide another student with the impact Mr. Quackenbush had on his life. 
Bird's research project focused on the effect of zinc on diatom growth. Along with learning about diatoms, Bird enjoyed the tools he learned to use in the lab, such as the fluorometer. 
"It's a machine that measures the fluorescence emitted from the chlorophyll in diatoms," Bird explained. "I was able to measure the relative amount of biomass of different diatoms and see different environmental conditions affected how those cultures grew over time."
Bird said the scholarship was an amazing opportunity for him to get real hands-on experience doing scientific research. 
"It's kind of incredible," Bird added. "I don't think a lot of people have access to that. I was really surprised to see what lab work was really like."
He also enjoyed his experience in the class. The immersive four-week academic class gives students a close-up view of the various disciplines in marine biology and oceanography.  Bird encourages other high school students to look for opportunities like this and to consider taking the class even if they are not looking for research experience. 
"It's a very different style of education. It's a little bit more natural," Bird said. "The learning is portable. It doesn't stay in a classroom."  
The month-long program and residential nature coupled with an immersive approach make the class unique in the United States.  Non-research scholarships are available. Dates for the 2022 Residential Marine Science Class will be posted in late fall 2021, and registration opens on February 1, 2022.