(March 09, 2021) --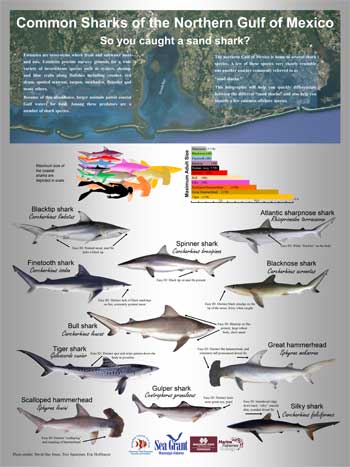 Our understanding of the shark population in the Mobile Bay and the Northern Gulf of Mexico has grown immensely over the last decade. Now, educators can bring that research to their classrooms. 
DISL's Discovery Hall Programs, the MSU Extension Services, and Dr. Marcus Drymon's Marine Fisheries Ecology Lab collaborated to create a poster highlighting ten years of shark science. The poster is a companion to a new DISL, MSU, and Mississippi-Alabama Sea Grant educational lesson. 
"The poster was created to dispel myths about the common coastal sharks," DHP Marine Educator Greg Graeber explained. "For example, the sand shark. There is no such thing as a sand shark, and the poster explains why it is so hard to tell these common coastal sharks apart from one another."
The poster also highlights some of the more charismatic sharks that call the north-central Gulf of Mexico home, such as the tiger shark and a variety of hammerheads. There are also a few off-the-beaten-path deeper water species that may occasionally come up further offshore. 
"What's cool about it is a quick and easy basic reference guide for shark identification that many people, even saltwater anglers, have problems differentiating these species," Graeber added. "It also shows size comparisons that demonstrate that not all sharks are giant monsters. Some of those 'baby' sharks you've seen may actually be an adult."
One common small shark mistaken for a baby is the Atlantic Sharpnose Shark. It is the most common of the coastal sharks.
Click here to download your copy of the poster.