(June 16, 2021) --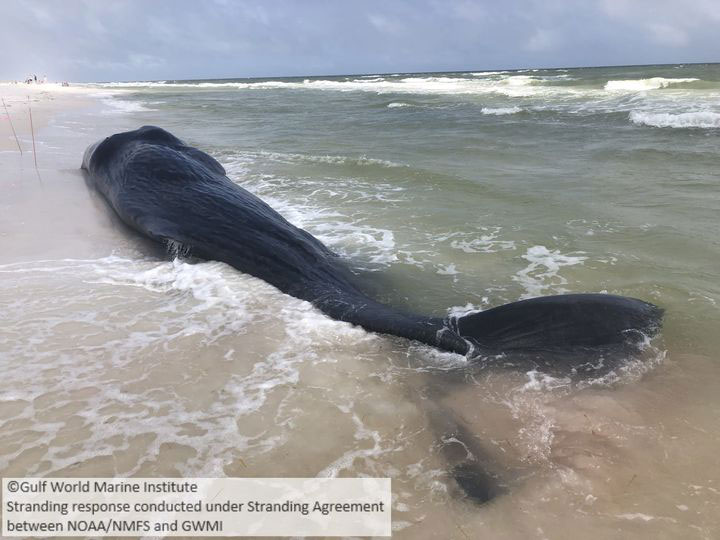 The Dauphin Island Sea Lab's Marine Mammal Research Program staff collaborated on two marine mammal responses along the Gulf of Mexico coast this month: a sperm whale necropsy in the Florida panhandle and a live dolphin rescue in Louisiana. 
Two members of the Alabama Marine Mammal Stranding Network (ALMMSN) assisted with the sperm whale necropsy in Panama City, Florida. The 29-foot female sperm whale was found stranded on Shell Island on Sunday, June 6, and passed away overnight before responders could arrive on the scene. ALMMSN Stranding Coordinator Mackenzie Russell and Assistant Stranding Coordinator Cristina Clark joined a multi-agency group on Wednesday, June 9 to assist with the necropsy. ALMMSN staff were able to use their previous experience in large whale response, most recently the sperm whale that stranded in Mobile Bay last November, to assist with necropsy techniques, setup, and logistics. This necropsy also allowed ALMMSN staff to expand their knowledge and expertise.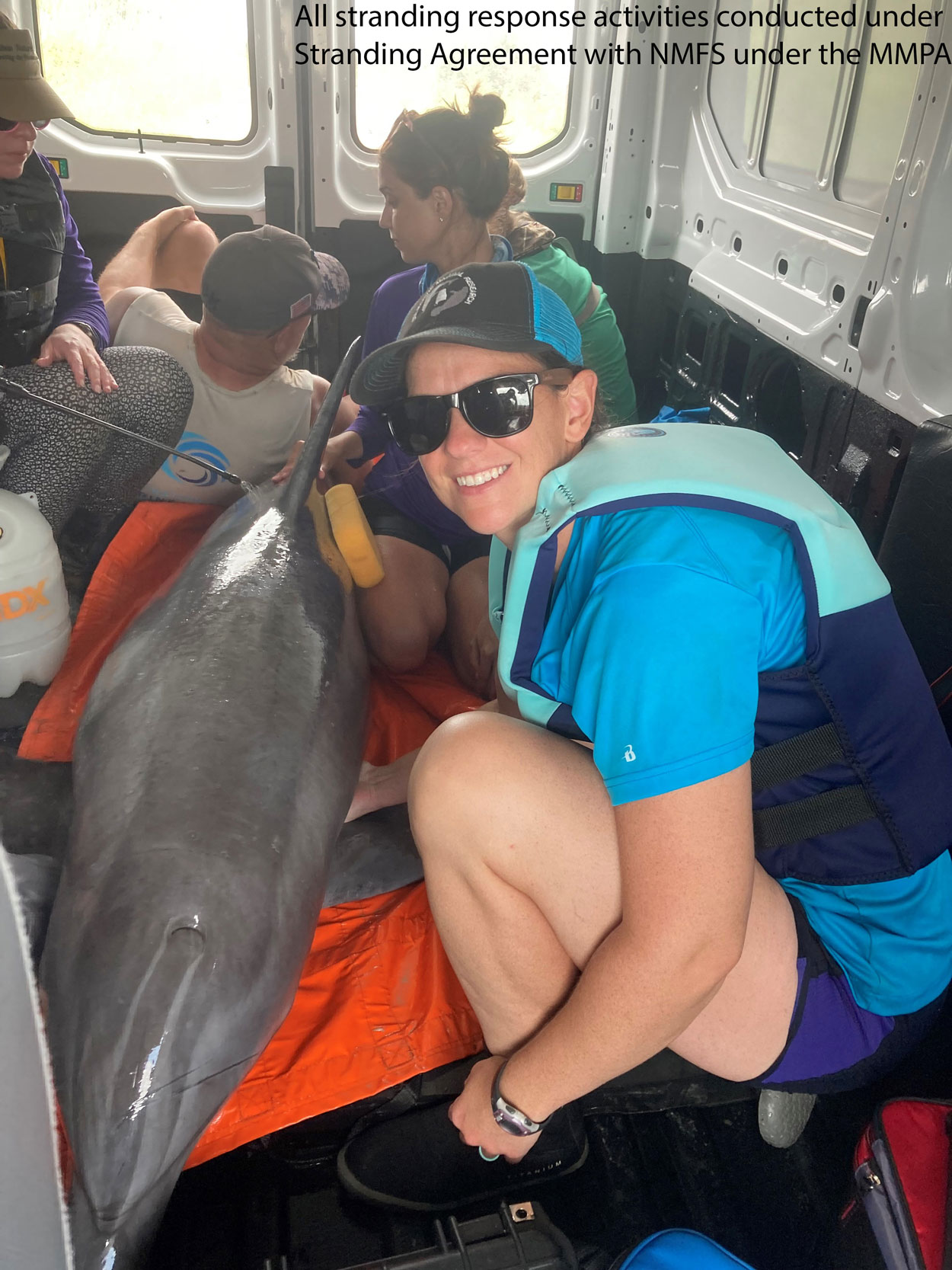 Clark said, "I feel very fortunate to have been a part of this experience. I got to wear a lot of hats throughout the whole necropsy and continue to build a working knowledge base that I can use during future stranding responses."

Two states to the west in Louisiana, ALMMSN veterinarian Dr. Jennifer Bloodgood assisted the Audubon Nature Institute's Coastal Wildlife Network with the rescue of an out of habitat bottlenose dolphin near Pecan Island. The subadult male dolphin was suspected to have been displaced by one of the hurricanes that made landfall in this area during late 2020 and was unable to return to open waters in the Gulf of Mexico. 
Following extensive planning, a multi-agency team was formed among numerous experienced marine mammal rescue agencies across the Southeastern U.S., including ALMMSN.  The rescue team safely captured the dolphin and determined it was healthy enough to be immediately relocated and released in the Gulf of Mexico. The dolphin was satellite tagged and will be monitored for the next several months to ensure its successful relocation.

"This was an excellent opportunity to collaborate with other marine mammal organizations and to build our capacity to respond to similar cases in Alabama," said Dr. Bloodgood. "It's a wonderful feeling to be a part of such a great team on the Gulf coast."

Partner agencies who collaborated on these responses include NOAA National Marine Fisheries Service (NMFS), the Florida Fish and Wildlife Conservation Commission (FWC), Mote Marine Laboratory, Clearwater Marine Aquarium, University of Florida, Gulf World Marine Institute, Emerald Coast Wildlife Refuge, Audubon Nature Institute's Coastal Wildlife Network, SeaWorld Orlando, SeaWorld San Antonio, Texas Marine Mammal Stranding Network, National Marine Mammal Foundation, and U.S. Fish and Wildlife Service.

Learn more about DISL's Marine Mammal Research Program by clicking here.  Report stranded, injured, or deceased marine mammals in Alabama to ALMMSN by calling 24 hours, toll-free at 1-877-WHALE-HELP.