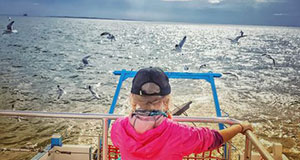 New this fall, the Dauphin Island Sea Lab dedicates a weekend of learning to grandparents and their grandchildren. You'll have the chance to explore Dauphin Island's habitats guided by DISL's full-time marine educators throughout the weekend of October 22 to 24. 
"As a grandmother myself, I know the bond between a grandparent and a grandchild is a unique one. Exploring and learning together brings joy and deepens that bond," DISL's Discovery Hall Programs Chair Dr. Tina Miller-Way said. "With this in mind, the Sea Lab is offering the first-ever Grandparents Camp."
Grandparents and their grandchildren will explore Mobile Bay aboard the DISL's Research Vessel Alabama Discovery, a great way to see the fishes and other bay life up close.  Through other activities, they will also investigate the nocturnal animals of the beach, discover the wonders of salt marshes, and have an after-hours experience at the aquarium. 
The cost of the program is $150 per participant. That cost includes the registration fee, meals, lodging, and all activities. The registration fee to reserve your spot is $50 and is non-refundable. The minimum age for the camp is 8, and children must be accompanied by an adult at all times. For more information, call 251-861-2141, ext. 7515.