(September 17, 2021) --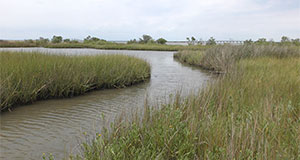 Nationwide, over the next week, Restore America's Estuaries partners with organizations like the Dauphin Island Sea Lab and the Mobile Bay National Estuary Program to shine a spotlight on the importance of our estuaries.
Estuaries, like Mobile Bay, are where freshwater meets saltwater. Our estuaries are economically and environmentally important for many reasons, not the least of which, they serve as a nursery habitat for many commercially and recreationally important fish and shellfish, such as oysters, shrimp, and red snapper. It is important for us to be good stewards and protect this vital part of our community.
This year, join us throughout the week on our website and social media channels as we highlight Mobile Bay. The schedule for the week includes:
Saturday, 9/18:  Estuaries/Mobile Bay, Mendel Graeber (watch below)
Sunday, 9/19:  Watersheds
Monday, 9/20:  How Redfish Use Restoration Structures, Sarah Ramsden
Tuesday, 9/21:  Oysters, Vicki Pruente
Wednesday, 9/22:  Salt Marshes 
Thursday, 9/23:  Estuaries Support Fisheries, Adriane Michaelis
Friday, 9/24:  Estuaries Feed the Seas
Saturday, 9/25:  Restoration, JoAnne Moody and Jame Amato
You can also celebrate National Estuaries Week by taking part in one of two excursions scheduled for the week. On September 22, there is a salt marsh excursion scheduled from 9:45 a.m. until 12 p.m. Then, on September 24, you're invited to take a tour of Mobile Bay on our Research Vessel Alabama Discovery from 2:45 p.m. to 5 p.m. Reservations are required in advance.
The DISL public aquarium is also a great place to learn about the animals living in our estuary, the dangers they face, and why it is important to help protect their habitat. Plan your visit today at disl.edu/estuarium.