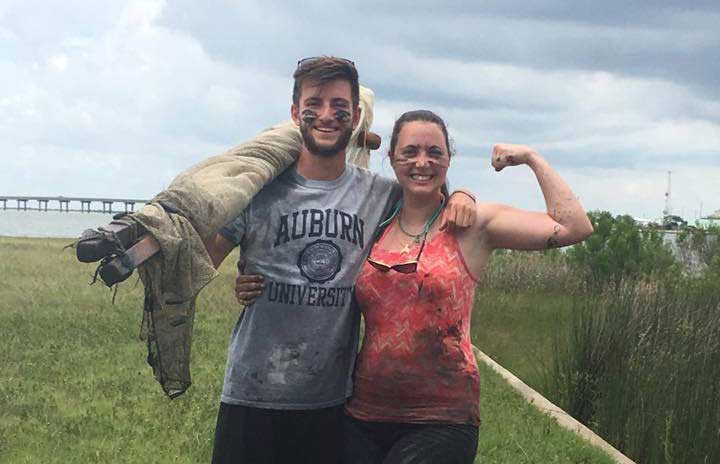 Big summer ahead for University Programs at the Dauphin Island Sea Lab. The 2019 summer session schedule includes an international research experience, a scientific diving course, a new course of vet care of marine mammals, and some traditional courses will be taught by new faculty members.
International research experience will be led by Dr. Alison Robertson who will accompany students to the Abaco Islands, Bahamas. Here they will study the chemical ecology of the tropical marine systems. This month-long experience is funded by the National Science Foundation with an active hands-on learning opportunity on the coral reefs. Class discussions include benthic community structure, food web dynamics, marine biochemistry, and primary and secondary metabolite production and use in these environments.    
The scientific diving course is back on the schedule after a summer hiatus and allows students already certified in SCUBA to enhance their skills and become certified scientific divers. Students interested in the course should apply early to make sure they have ample time to get their pre-course requirements completed, such as a physical and a diving test.
Six new faces will be in the classroom this summer at the Dauphin Island Sea Lab. Amy Sprinkle (Biotic Response to Sea Level Change), Emily Elliott (Geology), Jenn Debose (Intro to Oceanography), Roy Lehman (Marine Botany), Alissa Deming (Vet Care of Marine Mammals), and Ron Baker (Marine Vertebrates).
We're also excited to announce Stillman College in Tuscaloosa joined the Marine Environmental Sciences Consortium this past year bringing the total to 23 Alabama colleges and universities.
The priority registration deadline for summer session courses is February 15. Students can apply online at disl.org/univ-prog/undergradhttp://disl.org/univ-prog/undergrad.
There are funding opportunities available including work study and fellowships. The deadline to apply for those is March 15.