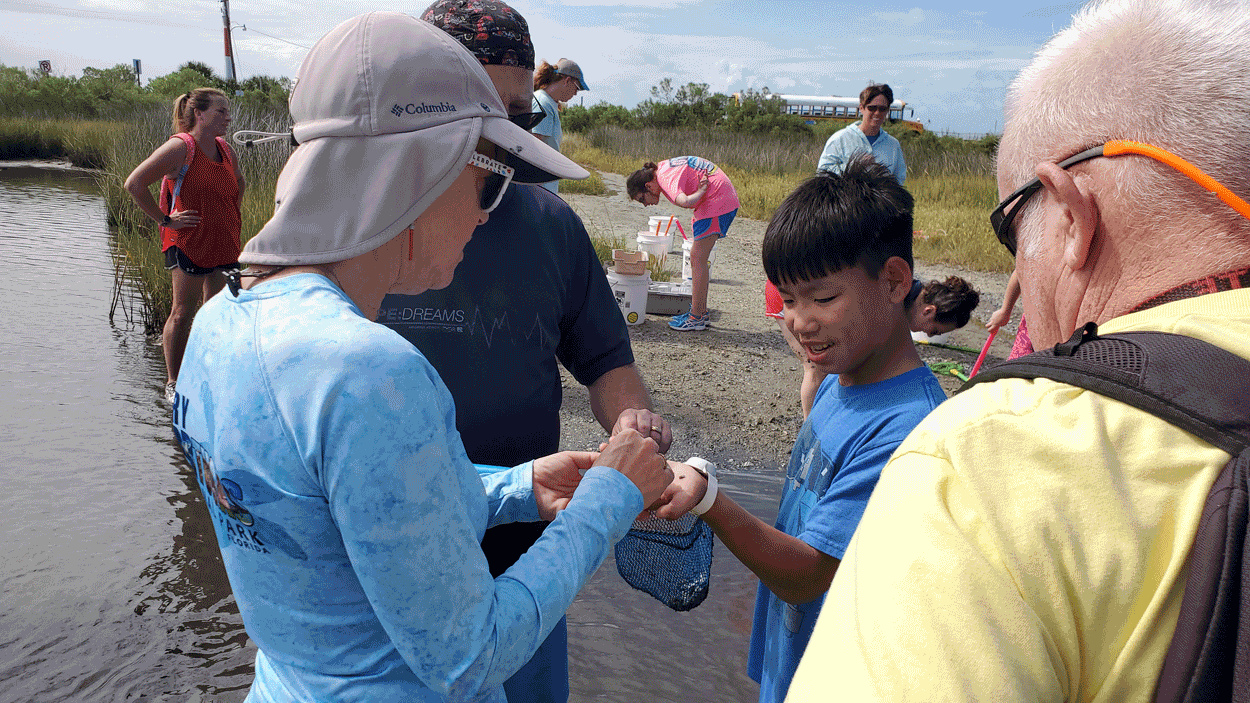 The Sea Stars Camp hosted by Discovery Hall Programs created lasting memories for 15 campers with special needs. The campers from across the state of Alabama spent three days exploring Dauphin Island's habitats with DHP's Marine Educators. 
"The weekend was wonderful," DHP Educator JoAnn Moody beamed as she shared. "It's just been really amazing to see them encourage each other to do things they maybe hadn't done before like touch a fish or hold a ghost crab and have these new kinds of experiences."
The campers started their experience with a walk on the beach Friday evening as the sunset on the horizon. They looked for ghost crabs, found seashells, took a moment to look to the stars and get to know one another.
"My son really enjoyed the beach last night," Darrel McKinney said. "Getting the opportunity to see the crabs and be out after dark on the beach. It's not something he's been able to do very often, but he got the chance to actually get out there and see what the beach is all about after dark."
On Saturday the campers boarded the Dauphin Island Sea Lab's Research Vessel Alabama Discovery. The boat ride took them along the island's northern coastline to learn about Mobile Bay, the marshes, and see a few of the resident marine animals. The campers then had a hands-on lesson in the salt marsh. They held hermit crabs, caught fish and shrimp in the seine net, and saw live oysters. 
"I think the camp is fun, and I want to bring my whole school class here so they can all enjoy it," camper Lindsay Davis said. 
Davis' favorite marine animal is the shark, and she was excited to see one at the Estuarium. We caught her reading up on her shark knowledge. Something she'll have the chance to share when she volunteers again at the McWane Center in Birmingham. The Mountain Brook High School student helps out with the World of Water exhibit. 
"This camp is so much fun," Davis added. 
"You can't really put a price tag on it," McKinney said. "You're watching the wonder in your child's eyes as they experience nature in our state."
Many of the parents echoed McKinney's thoughts. They appreciated the opportunity for their child to be a part of the experience, and they had just as much fun. 
This is the second time Discovery Hall Programs hosted the Sea Stars Camp. The first camp occurred in 2011. This year's camp was made possible with the help of several generous donors including the Krewe of Kindness and the Rotary Club of Mobile. 
The campers are between the ages of 9 and 18 years old. Helping alongside the Discovery Hall Programs team were dedicated camp counselors Marty Dunn, Ashley Allen, Philip Cosper and Emily Guarino who volunteered their time.