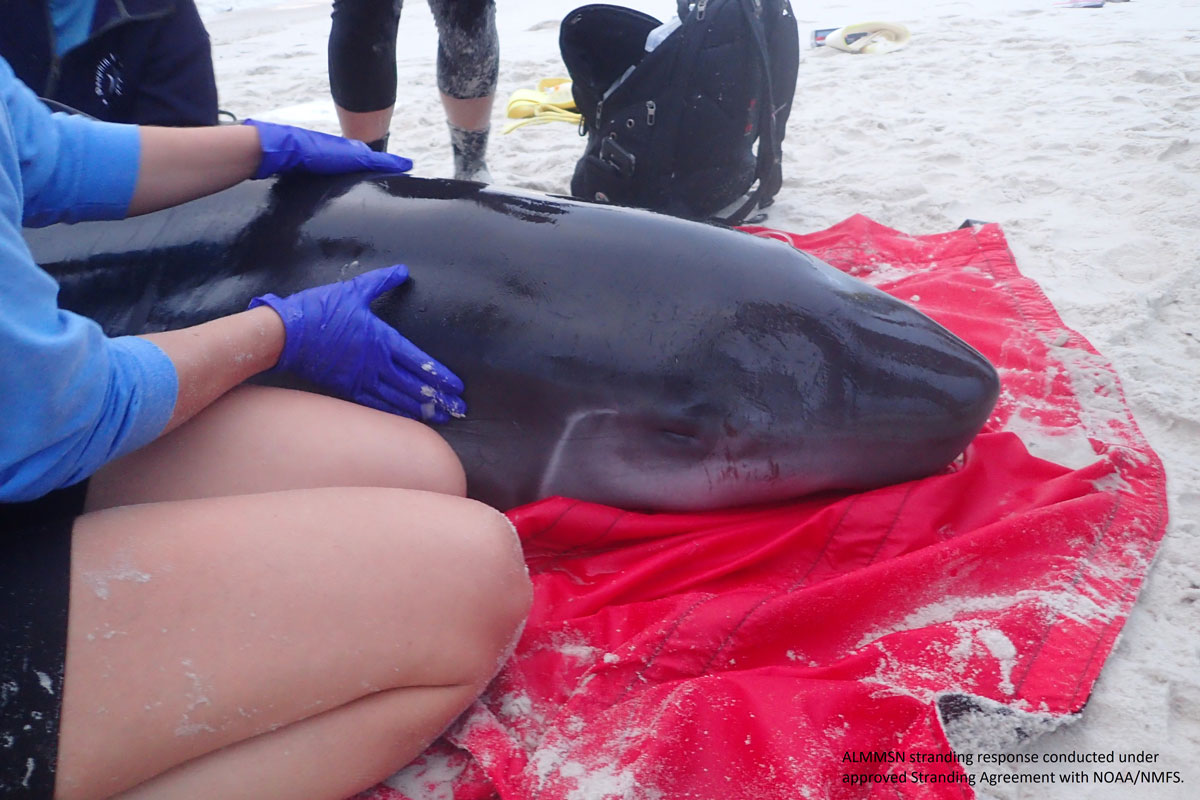 On Sunday, November 4, the Alabama Marine Mammal Stranding Network (ALMMSN), based out of Dauphin Island Sea Lab, responded to a call from a Gulf Shores resident reporting a large marine mammal being rolled in the surf and in distress. 
From the picture sent by the caller, the stranding coordinator, Mackenzie Russell, identified the animal as a pygmy sperm whale (Kogia breviceps). This elusive species lives in the Gulf of Mexico and feeds on squid, crustaceans, and deep-sea fish along continental shelves.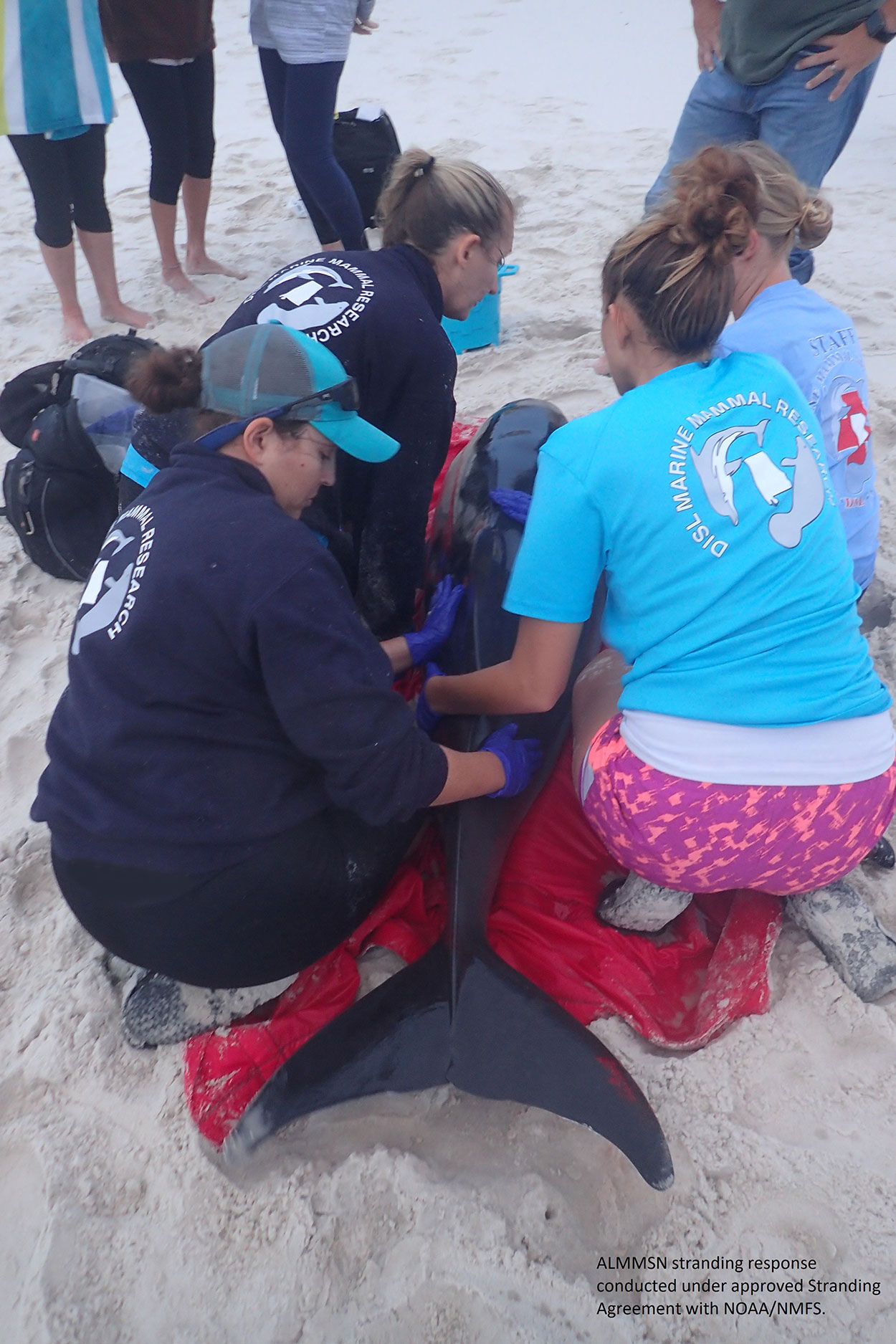 "When we arrived on scene it was clear the young animal was thin, very sick, and out of his natural habitat," said Dr. Alissa Deming, veterinarian for the ALMMSN. The stranding team brought the animal out of the rolling waves and performed a physical examination, which showed signs of pneumonia, shock and several cookie cutter shark bites. 
A full necropsy was performed on Monday, and preliminary results confirmed the animal was underweight and had pneumonia. Further bloodwork, biotoxin analysis, and evaluations of the tissues may provide more information about why this animal was ill and stranded.  Considering the animal's severely sick condition and that this species typically does not survive transport or rehabilitation, humane euthanasia was determined by the attending veterinarian and NOAA's National Marine Fisheries personnel to be the only option to ease the animal's suffering.
This animal is the third offshore live marine mammal to strand in Alabama and Mississippi since Hurricane Michael, a month ago. ALMMSN rescued a live stranded pantropical dolphin on October 16 in Theodore, Alabama and transported it to the Institute for Marine Mammal Studies (IMMS), a rehabilitation hospital in Mississippi. That animal is in critical condition and under round the clock care. And on October 9, IMMS responded to a rough tooth dolphin stranded in Mississippi which is also receiving intensive care and improving at IMMS.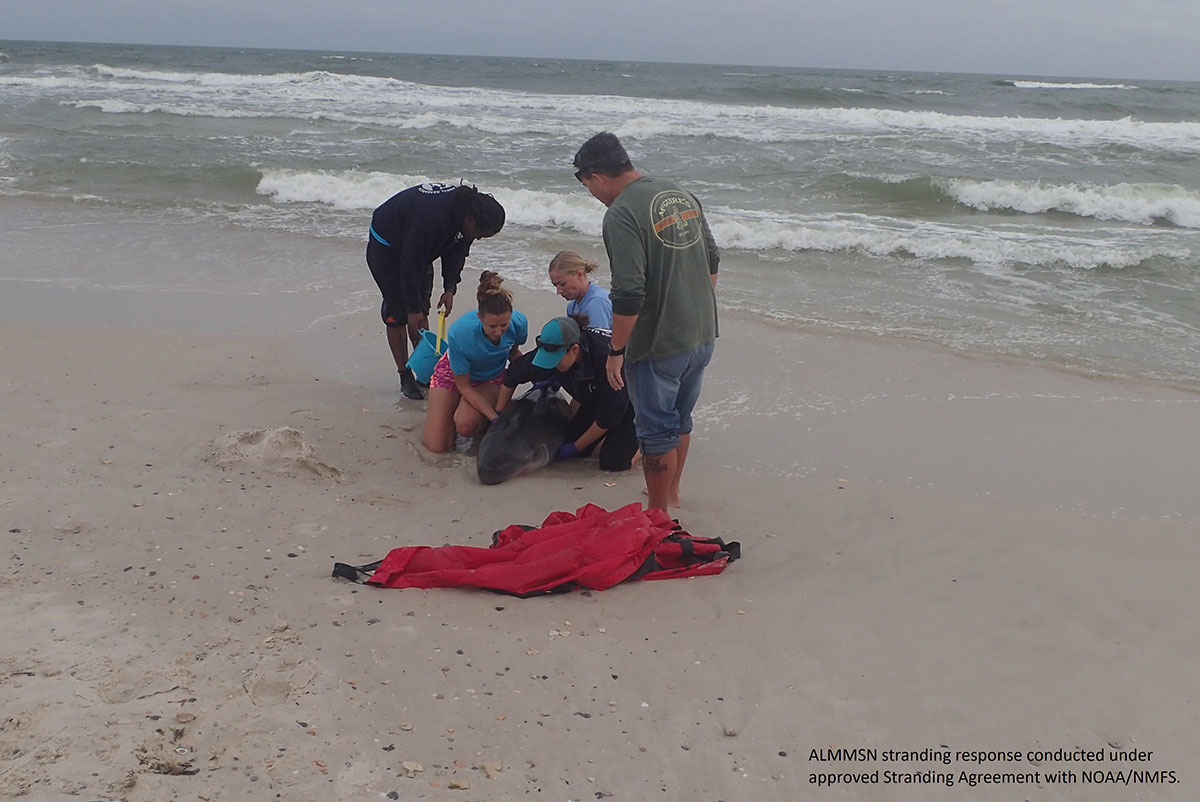 The reason for the increase in offshore marine mammal species stranding in the northern Gulf of Mexico this month is unknown, but the findings from the necropsy performed on the pygmy sperm whale that stranded on Sunday may provide valuable insight.
Rapid reporting increases the chances of survival for stranded marine mammals. If you see a sick, injured or dead marine mammal in Alabama waters, DO NOT PUSH IT BACK into the water, please immediately call ALMMSN at 1-877-WHALE-HELP.