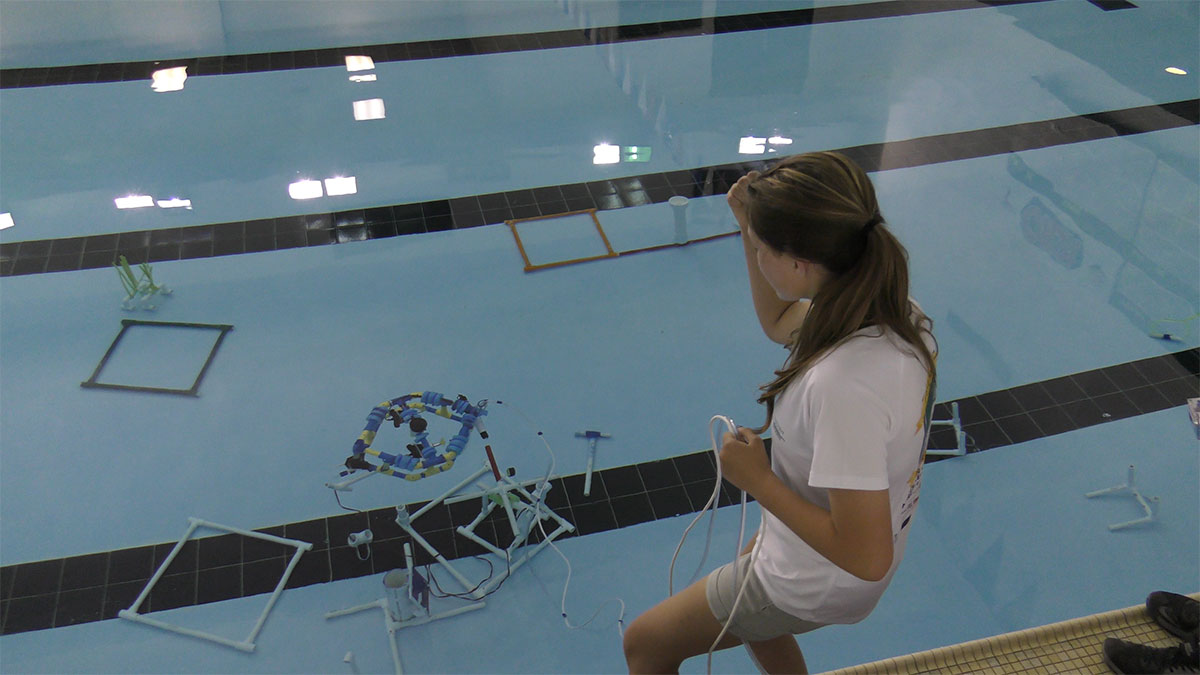 The Northern Gulf Coast 2018 Regional ROV Competition is in the books.  This event showcased the hard work and dedication of 22 teams to build, drive, and exhibit their remotely operated vehicles (ROVs) in pool demonstrations, engineering presentations and poster displays.  
This year's theme, Jet City: Aircraft, Earthquakes, and Energy, challenged teams to use their ROVs to locate and recover parts of an aircraft wreck, install or recover a seismometer, and use tidal data to select a location and install a tidal turbine.   ROV designs built to accomplish these tasks were incredibly diverse from their size and shape, to the materials used as well as the addition of various tools including hydraulic arms.  
From here and there
Twenty-two teams competed this year from the Florida panhandle across to Louisiana and as far north as El Dorado, Arkansas.  Coastal Alabama teams included St Pius X Catholic School in Mobile and Bayside Academy in Daphne.  Other schools participating from Alabama included Chilton County High School, Cottonwood High School, Fairview High School, and Wicksburg High School. Pensacola Catholic High School and Surfside Academy participated out of Florida, Carrollton High School from Georgia, River City Early College High School, and Tupelo Middle School from Mississippi, Acorns 2 Oaks, Baton Rouge International School, Donnie Bickham Middle School, Scotlandville Middle Magnet and Walker High School from Louisiana and Washington Middle School from Arkansas. 
Places everyone!
In the Scout division Poseidon Project (Bayside Academy) took 1st place, Next Robotics (Walker High School) took 2nd place, and Blenny and the Jets (Donnie Bickham Middle School) took 3rd place.  For the Navigator division, Ursa Apex Robotics (Cottonwood High School) came in 1st place, Wicksburg AquaTech (Wicksburg High School) came in 2nd place, and the River City Robotics (River City Early College High School) came in 3rd place.  In the Ranger division, InnovOcean from Carrollton High School came in 1st place and qualified for the MATE international competition which will be held in Federal Way, Washington in June.  
The Tethered Together award, which recognizes great teamwork, went to Masters of the Reef from Surfside Middle School in Panama City Beach, Florida.  The Buoyancy award, which recognizes a team that perseveres in the face of difficulty, went to Acorns 2 Oaks from Slidell, Louisiana. And a third specialty award was also given out this year to Tyrannus, Inc. from Washington Middle School in El Dorado, Arkansas for their outstanding commitment to the educational mission of the competition.
Mark your calendars for our 7th annual ROV competition, which will be held April 26-28, 2019. We hope to see you then.
Tune in to the Marine Advanced Technology Education (MATE) Facebook page on June 21-23 for live updates from the international competition. Be sure to cheer on our winning Ranger team from Carrollton High School.
A special thanks to our sponsors for their generous contribution to our regional competition.    
To learn more about the ROV programs offered by the Dauphin Island Sea Lab's Discovery Hall Programs, click here.