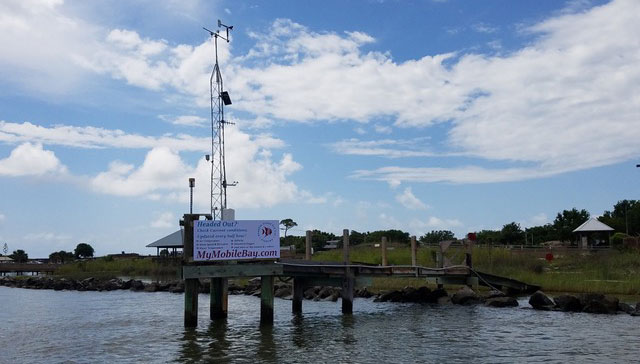 There's now a sign in Mobile Bay to remind boaters of the valuable resource MyMobileBay.com. The sign is located along the waterway that leads to Mobile Bay from the busiest launch in coastal Alabama, Billy Goat Hole on Dauphin Island. 
The MyMobileBay.com website provides boaters with real-time weather and water information, including air temperature, water temperature, wind speed and direction, salinity, and dissolved oxygen. The information is updated every half hour and is gathered from eight water quality sampling stations that are located around coastal Alabama, including a new site off-shore.
Scientists at Dauphin Island Sea Lab maintain MyMobileBay.com and the data are part of the Alabama Real-Time Coastal Observing System (ARCOS).
"We are thrilled to have the signup! A lot of people know about the website, but there are a lot more who are missing out on this up-to-the-minute information. We think this will help address that gap." says Renee Collini, project lead.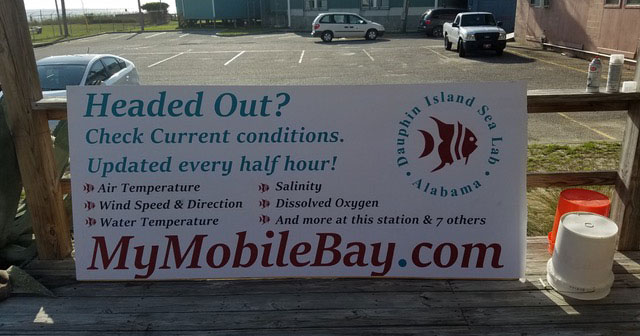 The new sign was installed in time to take advantage of the red snapper season, which represents a major uptick in boat traffic. In 2017, the Marine Resources Division of Alabama Department of Conservation and Natural Resources conducted surveys to assess the number of fishermen leaving out of Mobile County on 10 different days in May and June. Only one sampling day was within federal snapper season and there was more fisherman on that day than the other nine days combined.
The MyMobileBay.com sign is also visible to anyone riding the ferry, traveling on a charter vessel, or leaving from a private access point as they head out into Mobile Bay and the Gulf of Mexico through the waterway known as Government Cut.
ARCOS, a long-standing resource for coastal Alabama, is currently being funded by the NOAA RESTORE Science Program, which aims to increase our understanding of the Gulf of Mexico ecosystem and provide resource managers with the best available science.