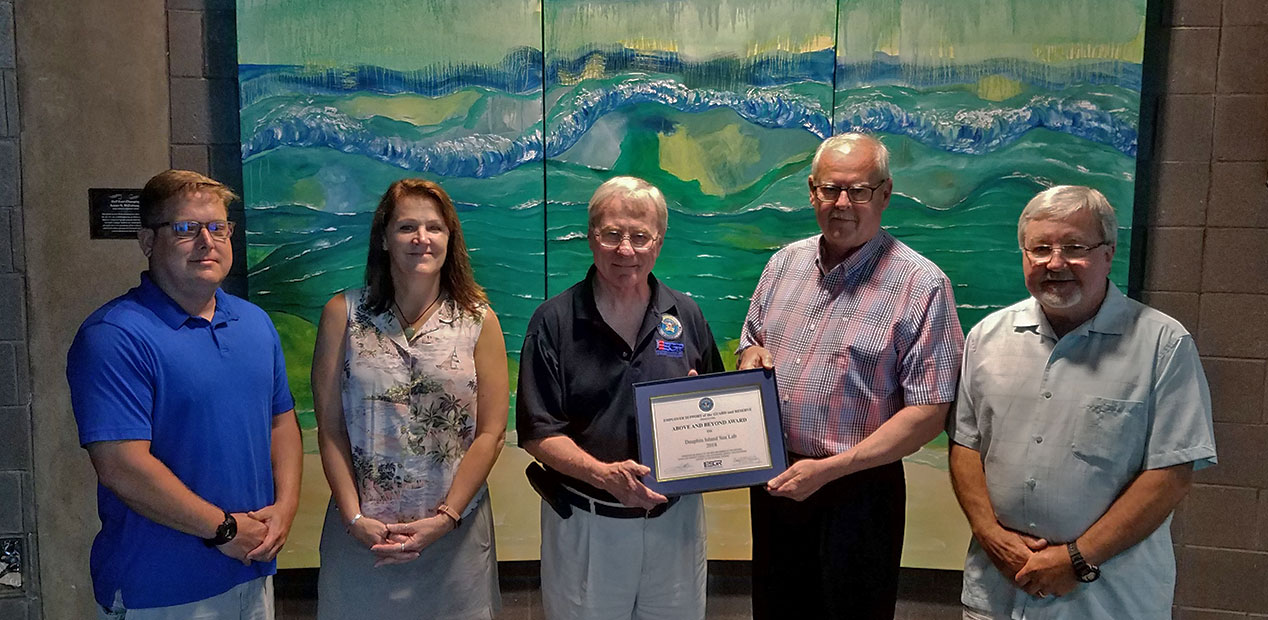 The Employer Support of the Guard and Reserve presented the Dauphin Island Sea Lab with the Above and Beyond Award on Monday, July 16.  Retired Colonel and the chair of Alabama's ESGR Bill Kringel presented the award to Dr. John Valentine, the Executive Director of the Dauphin Island Sea Lab.
The Above and Beyond Award recognizes employers at the local level who go above and beyond the legal requirements of the Uniformed Services Employment and Reemployment Rights Act. This is the second highest award given to employers by the ESGR. 
Army Aviator Yantzee Hintz has served more than 24 years in the Army National Guard. Eighteen of those years, he's been employed at the Dauphin Island Sea Lab. He currently works with DISL's Marine Technical Support team.
During his time at the DISL, Hintz deployed a combined time 42 months and attended flight school for 18 months. He's also been called up in support of hurricanes, ice storms, the BP oil spill, and tornadoes. Recently, he was called with a days notice to fly a training mission in support of an active army unit at Eglin Air Force Base.  
"Each time that I have been given short notice or no notice Coordinator of Technical Support Laura Linn and the Dauphin Island Sea Lab have always supported me," Hintz said. "Without the support of the Lab I would not have been able to do all things that I have done. I am very fortunate to have an employer that allows me to take advantage of the many opportunities the Army National Guard gives me to serve."
Last year, Linn received the Patriot Award for her support of Hintz' service in the Army National Guard.