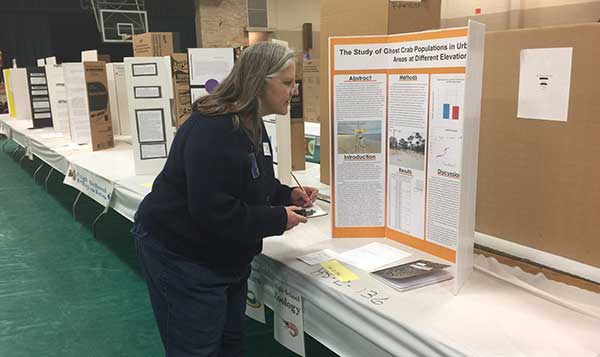 Discovery Hall Marine Educators don't just teach in the classroom or at school with the BayMobile. They also encourage students to pursue education and careers in marine and environmental science. Two big ways they do this is through science fairs and career fairs.
DHP Educators have attended county, regional, and state level science fairs for many years, assisting in various judging aspects. Most recently, Jenny Cook attended the Mobile County Science Fair, and Greg Graeber visited students at the Region 8 Science Fair in Hammond, Louisiana to share information about programs available at the Sea Lab.
Cook also helped judge projects in marine science, microbiology, and zoology in the high school level, and zoology at the middle school level. She said the projects were "definitely outstanding and very interesting," and looks forward to seeing some of the projects and they progress to the regional and state levels.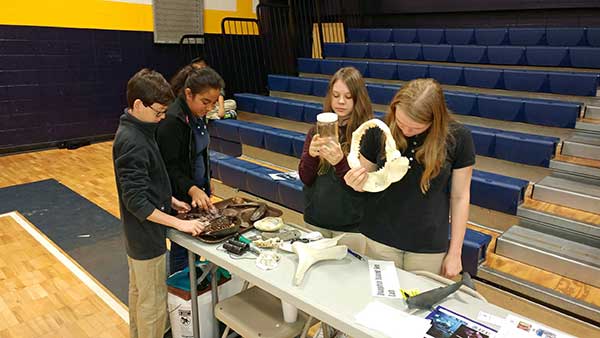 At the Alabama State Science and Engineering Fair, educators work as Special Awards judges, seeking out students with projects focused on the marine environment, or some environmental impact that relates to the ocean. Students in these categories are eligible to win scholarships to attend DHP's immersive, month-long academic course in marine science, or the week-long Gulf Island Journey middle school camp. Some students have even gone on to the state science fair with the scholarship as their goal, and their interest and passion for the marine world is evident.
Career fairs are also an important part of DHP's mission. Bringing marine and environmental career information to students in elementary and middle school can help them understand early on what sorts of careers are really out there, and how to pursue the field they are interested in.
Many students don't realize the vast number of careers available in marine science, and the educators enjoy sharing this diversity with an eager audience.