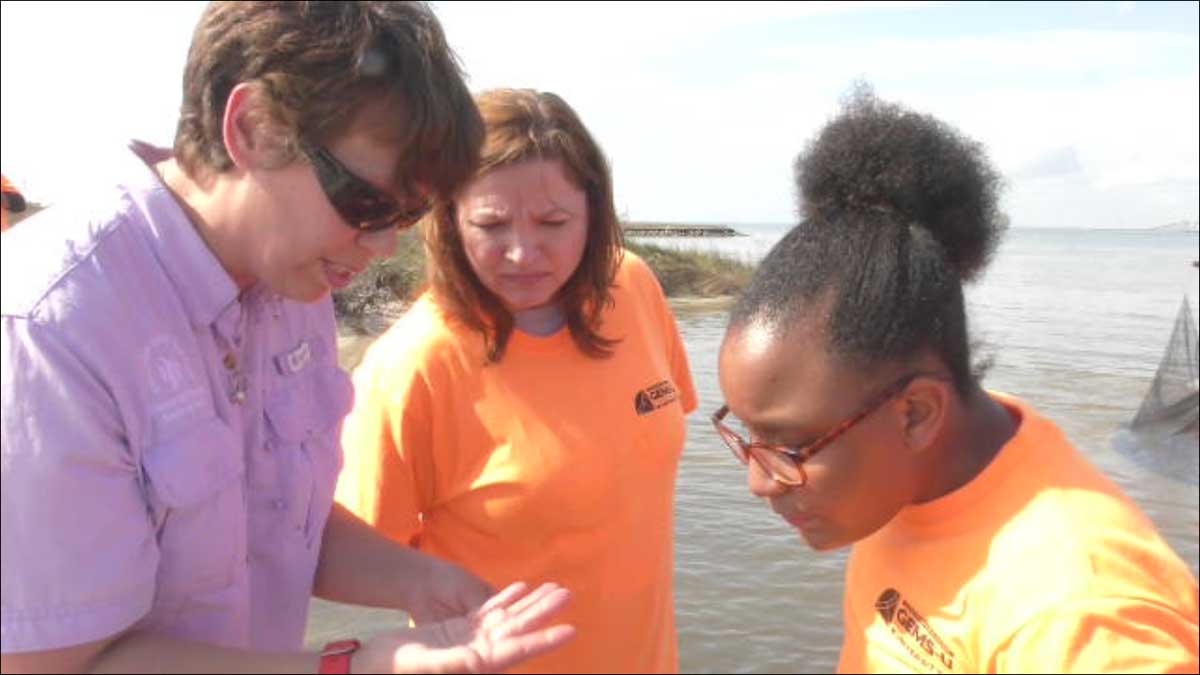 In mid-March, the Dauphin Island Sea Lab hosted more than 100 girls and their teachers for the 9th annual Girls Engaged in Math and Science University event.  This year's GEMS-U event, themed "From Space to Shining Sea", was held in two locations, the U.S. Space and Rocket Center and the Dauphin Island Sea Lab.  
The Sea Lab hosted teams from the University of Alabama at Birmingham, Isabella High School, Jemison High School and Chilton County High School from Chilton County, Anniston Middle School from Calhoun County, Rock Quarry Middle School from the Tuscaloosa area, Corner High School from the Birmingham area, and Clark-Shaw Magnet School and W. H. Council Traditional School from Mobile.  
Hailey Ridgeway, Program Manager for the ALEX program, said "The GEMS-U Expo is a chance for girls ages 7 to 18 to dig in and get to know STEM. We partnered with the Dauphin Island Sea Lab to provide a setting that sparks girls' natural curiosity as well as female role models in the field to boost their confidence and dream of a career in STEM. Adventures from the hidden life of beaches to mysteries of the marsh, now that's real learning!"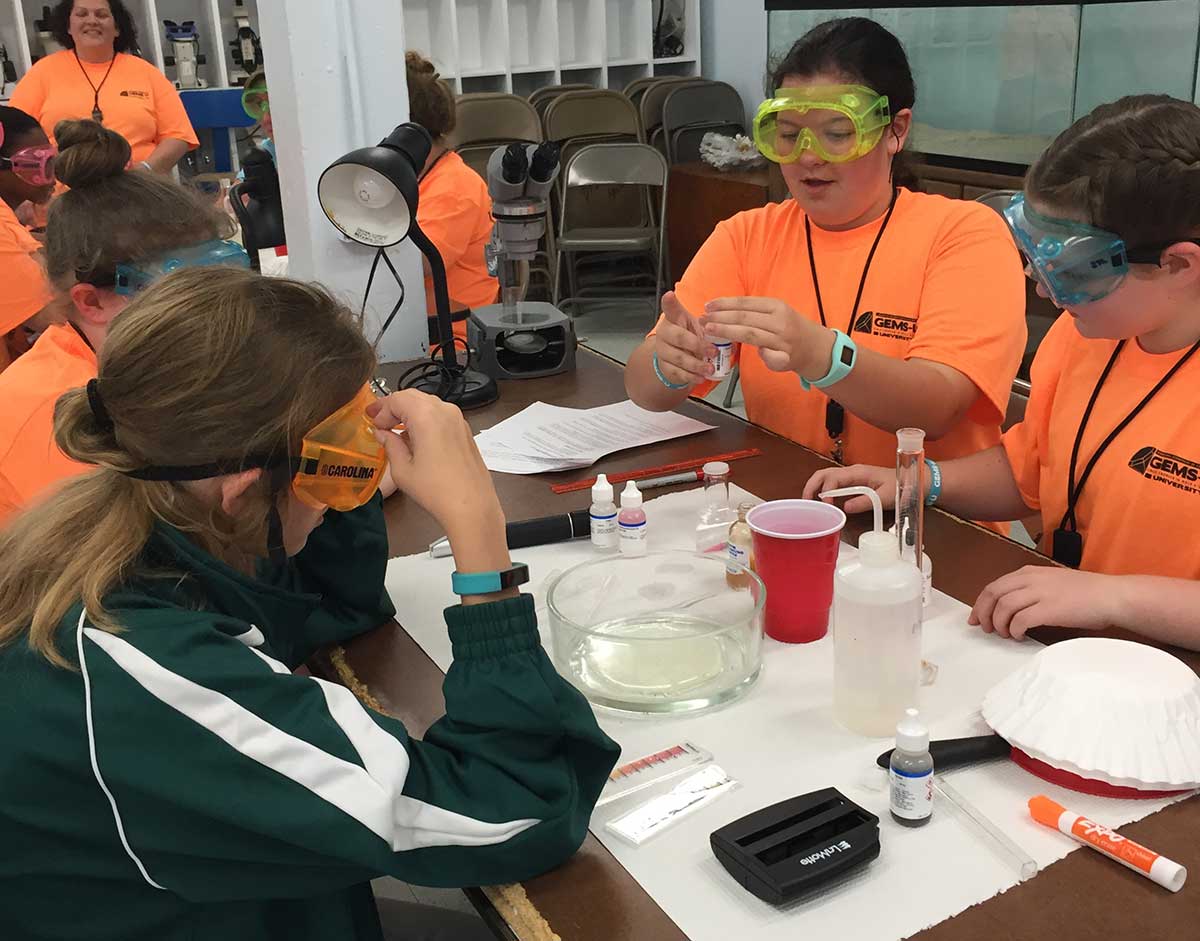 During the day-long event at the Sea Lab, the girls participated in several hands-on activities focused on marine biology, heard from and chatted with several female Sea Lab scientists, got a chance to visit the Sea Lab's public aquarium, the Estuarium, and closed the day showcasing their own STEM (science, technology, engineering and mathematics) projects for the entire group.   
For most of the girls, the highlight of the day was getting outside and actively investigating the coastal habitats and inhabitants around the Sea Lab with female scientists and educators.  They sampled the salt marsh with JoAnn Moody, looked at the beach in a whole new way with Mendel Graeber, learned what exactly they swallow when at the beach by collecting and studying planktonic organisms with Jenny Cook, conducted water quality testing solving a Water-Watcher mystery with Tina Miller-Way,  and toured the marine mammal necropsy lab and tracked manatees, or at least the girl pretending to be a manatee, with Marine Mammal Stranding Network Coordinator Noel Wingers and graduate student Kayla DaCosta.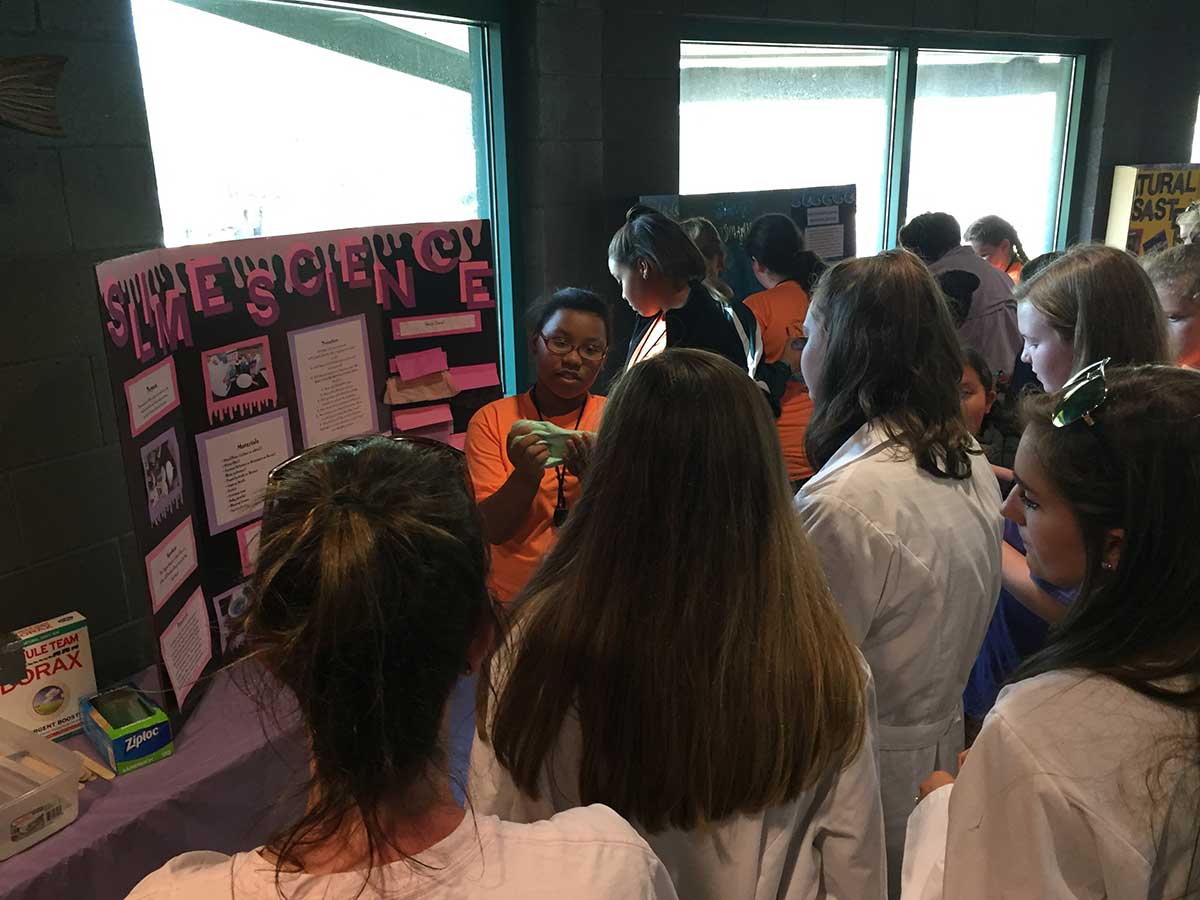 Teams also had the chance to hear from research scientist Dr. Kelly Dorgan, her graduate student Kara Gadeken, ACER Scientific Program Coordinator Dottie Byron and DISL Education & Outreach Director Dr. Tina Miller-Way.  
During the closing showcase event, girls had a chance to highlight their project with a display, and perhaps more importantly, chat with girls from other teams and realize there are a lot of girls out there like them who think STEM fields are awesome!
The GEMS-U program supports the national need to close the STEM gender gap, utilizing teaching strategies to encourage girls' self-confidence and elevate interest in the areas of science, technology, engineering, and math with female students. GEMS-U is a statewide educational program and is sponsored by the Alabama State Department of Education's Alabama Learning Exchange (ALEX) program.