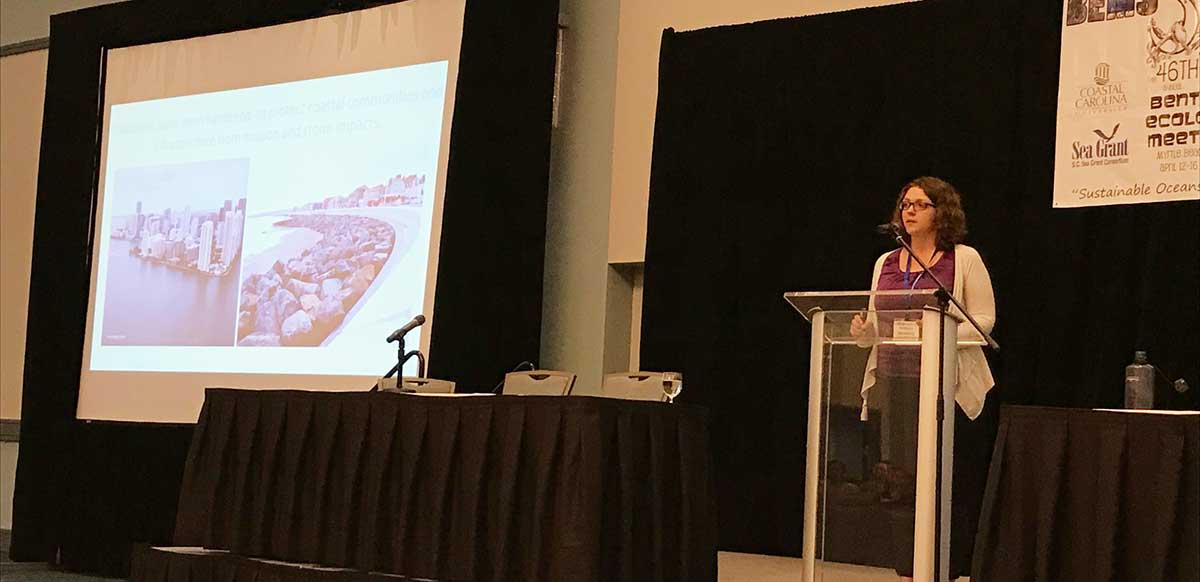 (April 2017) -- The Dauphin Island Sea Lab was well represented at the 46th annual Benthic Ecology Meeting Society. 
The event held in Myrtle Beach, South Carolina comprised both BEM and the Southeastern Estuarine Research Society (SEERS) 2017 Spring Meeting. Coastal Carolina University hosted the meeting. 
The meeting theme was "Sustainable oceans in theory and practice." 
Dr. Brittany Blomberg was honored to sit on the Marine Science Contributions to Coastal Ecosystems Panel. Dr. Blomberg of DISL, Dr. Louise Firth, Plymouth University, Dr. Jennifer Pollack, Texas A&M Corpus Christi, and E.V. Bell, South Carolina Sea Grant Consortium,  delivered their success stories of coastal restoration and recovery. 
Dr. Blomberg's research focuses on the impact of living shorelines. Her team is synthesizing data from 12 projects developed over the past decade. 
"Our project is specifically looking at oyster reef breakwaters along the Alabama coastline, including mobile Bay," Dr. Blomberg shared. "We're hoping to wrap up work by the end of the year."
Dr. Blomberg's plans once the project is complete is to distribute the information to the community and homeowners in the area. 
"These findings can help the general public protect their coastlines from erosion," Dr. Blomberg added.
Along with Dr. Blomberg's panel presentation, several Dauphin Island Sea Lab researchers presented their work in one of six categories during the mid-April event. Categories included habitat sustainability and restoration, reef ecology, trophic relationships and resilience, biological invasions, evolution, and ecosystem functioning and sustainability.