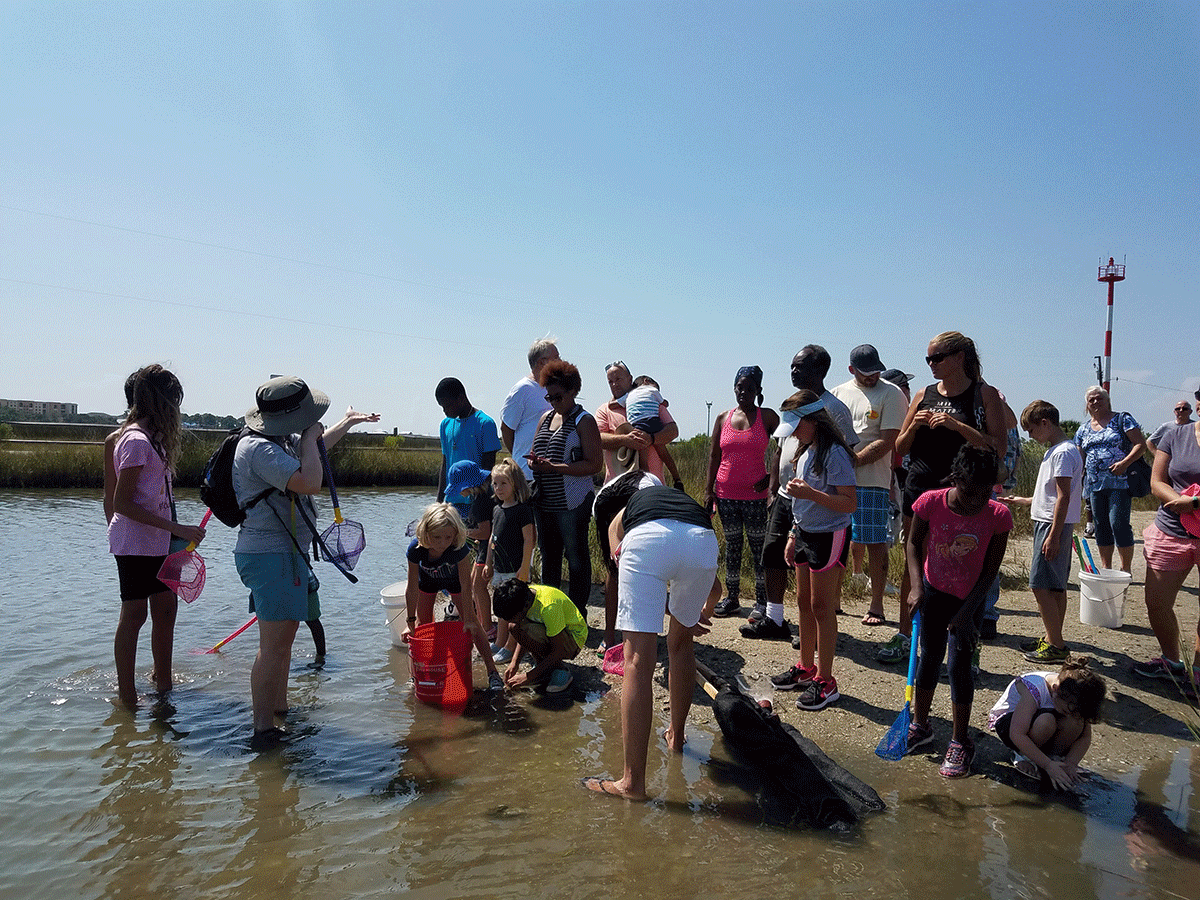 Discovery Hall Programs educators took the lesson to the Estuarium for National Estuaries Day on September 23. 
Interactive exhibits included a live animal touch table with blue crabs, periwinkle snails, and fiddler crabs, a  watershed enviroscape which showed how fertilizer, boat oil and more can find it's way into our watershed, a look at what happens to your marine debris, and how water travels through Mobile Bay and into the Gulf of Mexico.
Visitors even had the chance to visit the nearby salt marsh to get a closer look at why estuaries are important.  
Estuaries are dynamic with conditions changing from tide to tide, day to day, year to year, and so on. They come in all shapes and sizes, and are defined by the area where freshwater meets saltwater.
The northern Gulf of Mexico has a great deal of estuaries with most being river dominated, however, not to the extent of Mobile Bay. You can see this on the map. 
Estuaries are also very productive habitats by providing food to animals that live their entire lives in an estuary, as well as the species taht only use estuaries during a portion of their life cycle. There's also estuarine outwelling which transports carbon offshore to subsidize offshore food webs. 
One feature of an estuary is slat marshes which are grassy wetlands. They grow in the zone between high tide and low tide along protected shorelines. About half the marshes in the United State can be found along the Gulf of Mexico. 
Looking from afar, salt marshes may look like tranquil, grassy meadows, but they are actually crawling (and swimming) with creatures. They are muddy, and the sulfer smell you may notice is released by the bacteria that thrive in low-oxygen conditions.
Marshes are also a great hiding place for small animals. Many of our fisheries species, like shrimp, oysters, and some fish, rely on salt marshes as a nursery habitat.
Marshes are also storm buffers. Tropical storms lose intensity when they pass over these (mostly uninhabited) zones between land and sea. 
You can learn much more about our estuary, Mobile Bay, at the Dauphin Island Sea Lab Estuarium. The exhibits take you on a trip through the Mobile-Tensaw Delta, into Mobile Bay, through the Barrier Islands, and out into the Gulf of Mexico. There's also a Window to the Seas with an interactive video wall, and a touch table with games. Plan your visit at disl.org/estuarium.