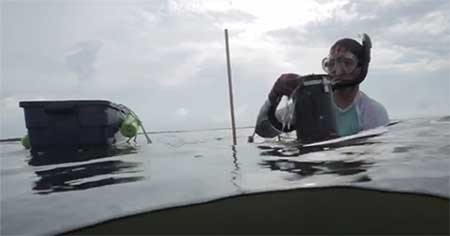 Dispatches from the Gulf shone a light on the 2010 Deepwater Horizon oil spill in Spring 2016. A year later, Emmy Award-winning filmmakers Marilyn and Hal Wiener are continuing the story with a look at the science born from the disaster.
The team, known for their Journey to Planet Earth Series, are working on the final cut of Dispatches from the Gulf 2. The sequel includes our ACER team and dozens of researchers and scientists who have used their expertise to uncover the impact of the Deepwater Horizon oil spill, and how to prevent and protect our environment if another disaster was to happen.
Through the camera lens, ACER researchers, students and staff bring you into the field and laboratory.
"After three long days of footage, you never know what will end up on the cutting room floor and if you do make the cut, how much will they use. It's exciting to see that ACER may have a spot in the sequel," Program Manager Dottie Byron
While Dispatches from the Gulf 2 is still in the edit room, you can get a taste of the story by watching the short 'sizzle reel' recently released. The reel includes Dr. Kelly Dorgan and her team in the field and the staff of ACER's wetlands group in their large mesocosm experiment.
No date has been set for the release of the film.
Also, read Hal Wiener's blog about what it takes to create a 'sizzle reel'.