A pair of classes at the Dauphin Island Sea Lab teamed up to give students a realistic experience of how scientists work together to collect data.
Grant Lockridge's Scientific Diving class joined Dr. Kelly Dorgan's Marine Ecology class on the E.O. Wilson during second session. The goal of the joint lab was for the classes to learn how they can benefit from one another in their research. 
"This is what Kelly and I do," Lockridge explained. "Kelly comes to me with her needs and I offer options as a scientific diver, and then together, we develop a working plan to accomplish the objective."
The classes met the day before heading offshore to create a plan. Dr. Dorgan's students requested pictures from the rig Lockridge's students would be diving in order to get a deeper understanding of how diversity changes with depth.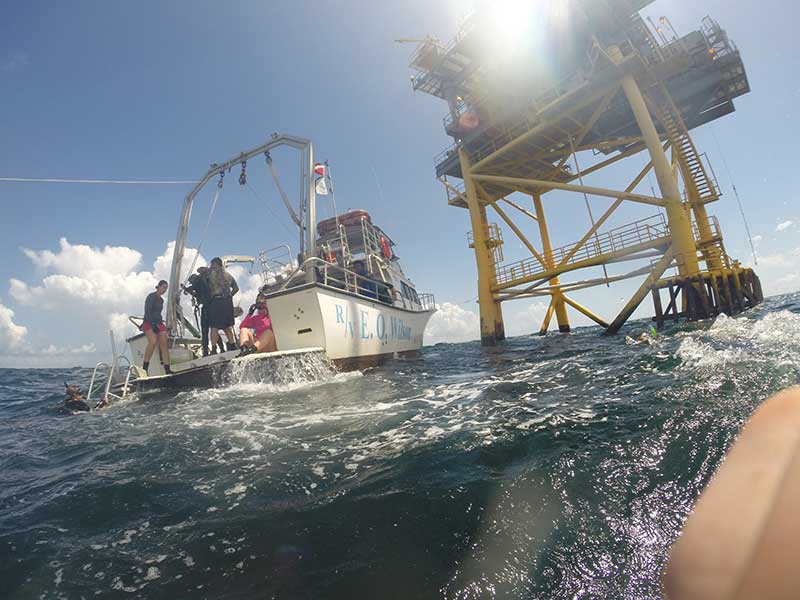 "It's really great, because you're actually applying what you learned in the classroom," Anna Eastis, who is taking Dr. Dorgan's Marine Ecology class said. 
Dr. Dorgan's hope for the joint lab was for her students to learn how to think quickly on their feet when things did not go as planned. 
"We had to figure out how to overcome obstacles and then apply a new method we learned in class," Eastis added.
Along with helping Dr. Dorgan's students, the scientific diving students had the chance to collect specimens for the Estuarium.