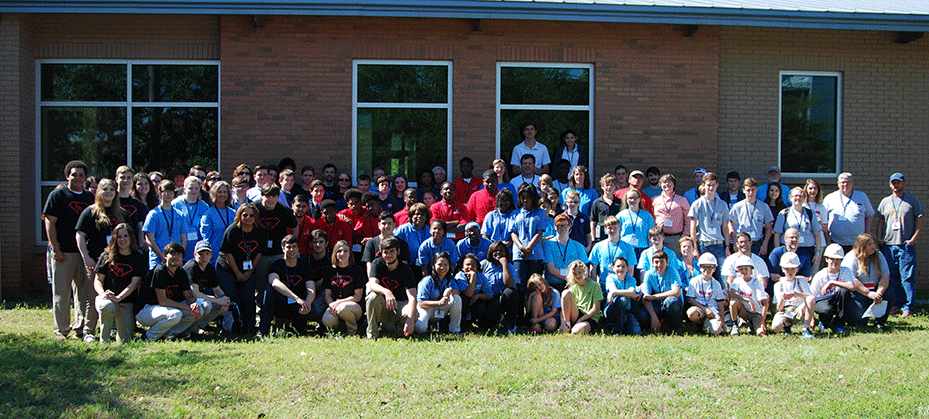 The 4th Annual Remotely Operated Vehicle (ROV) Competition hosted by the Discovery Hall Programs blasted off with 16 teams from across the Gulf Coast and Midwest. Teams were awarded points based off of their mission score, engineering presentation and marketing display in SCOUT, NAVIGATOR and RANGER levels.
SCOUT winning teams were Mulus Aquaticus from Poplar Bluff Junior High, Aggies Incorporated from Fairview High School and the Hancock Hawks from Hancock High School in first, second and third place respectively.
NAVIGATOR winning teams were the SHCS ROV Team from Sacred Heart Catholic School, R-Cubed from Rickards High School and Aqua Tech from Scotlandville Middle School in first, second and third place respectively.
RANGER winning teams were the Lost Rockets from Limestone County Career Technical Center, the Big Dippers, Inc. from Donnie Bickham Middle School, and the Spark Industry Robotics from Sparkman High School in first, second and third place respectively.
The Tethered Together Award for exceptional teamwork went to OCEA from Berwick High School. The Buoyancy Award for the team with the best attitude when facing hardship went to the Hurricanes from Alma Bryant High School.
Our winning RANGER team, the Lost Rockets are currently gearing up for the MATE International Competition on June 23 through 25 held at the NASA Neutral Buoyancy Lab in Houston, Texas. They will compete against at least 26 other RANGER teams from across the U.S and around the world. Wish them luck!
We would like to recognize and thank all the judges and volunteers who helped make the competition a success.
Engineering Judges for this year were Anil Badve, a structural engineer with ABA, Emery Baya, Senior Vice President with Thompson Engineering, and Tyrone Benjamin, Engineer III with Airbus Americas Engineering, Inc.
Mission Judges and volunteers included Keith Edwards, Aaron Macy, Thomas Thorjusen, Larry Bender, Justin McDonald, Justin Way, Carl Way, Nancy Hilbun, Lauren Sibley, and Beth Klees. Also, a special thanks to our guest speaker, Steve Garner, for sharing his ROV knowledge and research with the student teams and mentors.
Kudos to the Discovery Hall Program educators Jenny Cook, Chris Flight, Greg Graeber, Sara Johnson, Jennifer Latour, JoAnn Moody, and Tina Miller-Way. And don't forget a generous round of applause to the competition coordinator Rachel McDonald for a job well done.
Another special thanks to all of the sponsors: Deep-C Consortium, MATE and the Dauphin Island Sea Lab.
If your school is interested in bringing a team to the 2017 competition, reach out to us at ROVcompetition@disl.org or visit us online at http://www.disl.org/educational-programs.
There is also an opportunity for teachers to learn more about ROVs and build your own at our free teacher workshop to be held July 24 through 28. For more information or to sigh up, email dhp@disl.org.
Interested in being a volunteer, judge or sponsor for next year? Please contact us at ROVcompetition@disl.org for 2017 opportunities.
Photo Caption: Sixteen teams competed in the 4th Annual ROV Competition hosted by the Dauphin Island Sea Lab's Discovery Hall Programs. Teams came from five states: Mississippi, Alabama, Florida, Missouri and Louisiana.