Discovery Hall Programs (DHP) remotely operated vehicles (ROVs) hit the road the last few months traveling to Jubilee BEST Robotics in Mobile and South's BEST Robotics held in Auburn.  
BEST student teams competed against each other in robot design, marketing presentations, educational exhibits and team spirit.  At the Dauphin Island Sea Lab exhibit, students had the opportunity to learn about underwater robotics by driving an ROV in an indoor tub and exploring how ROVs are used in the oceans and various technical careers.  
DHP was also at AMSTI's Science in Motion event in Montevallo with the ROV exhibit where students also had the opportunity to drive an ROV.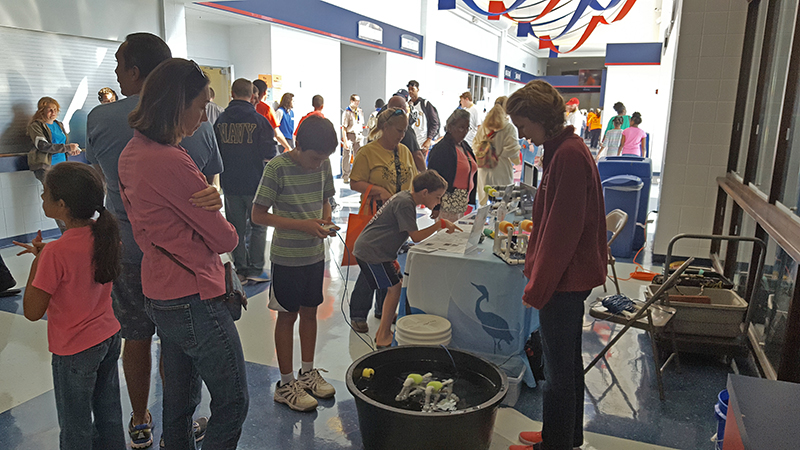 Gearing up for the competition
The Northern Gulf Coast regional MATE ROV competition hosted by the Dauphin Island Sea Lab will take place April 21-23, 2017.  The competition is one of 26 regional competitions that are part of the Marine Advanced Technology Education (MATE) Program and take place across the United States and around the world.
Middle and high school teams are encouraged to participate and compete against other teams with their underwater ROV in one of three competition classes (Scout, Navigator or Ranger).  The theme for the 2017 competition is 'Port Cities of the Future.' Tasks will consist of relating to commerce, entertainment, environmental health and safety.  Manuals for all competition classes are available on MATE's website and registration will be opening for the regional competition in mid-January.
To learn more about Discovery Hall Programs ROV program, please click here. For additional information, please feel free to contact us at ROVcompetition@disl.org.
Learn more about the Marine Advanced Technology education program, click here.