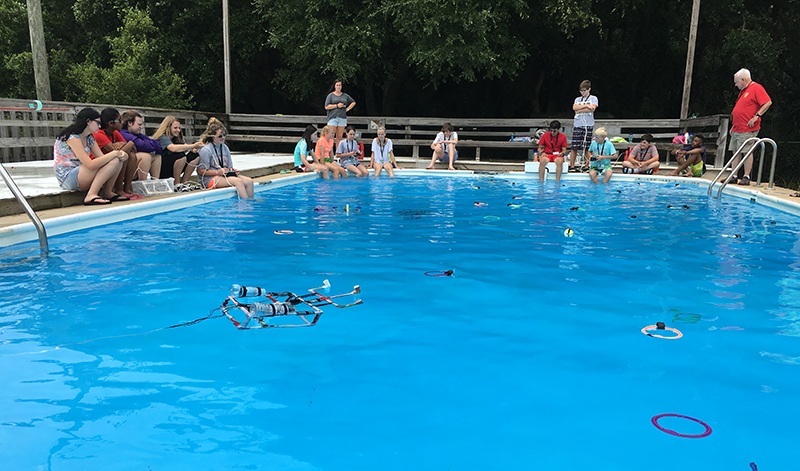 The stakes are high in the Discovery Hall Programs new overnight camp. Marine DeTECHtives combines robotics and engineering to encourage campers to think like an engineer. 
Technology sleuths will uncover marine technology through hands-on activities including building a simple robot, piecing together a circuit board and designing a remotely operated vehicle (ROV). Campers will then use what they learn for a mini ROV competition. 
Marine DeTECHtives will only be offered July 5 through the 7. Space is limited for the three day, two night camp, so, register early.
Registration opens for all DHP camps on January 4, 2017.  See list of camps below, and learn more about each camp by clicking here.
Barrier Island Explorer (rising 5th-6th graders) - June 4-7, June 11-14, or July 23-26
Gulf Island Journey (rising 7th-9th graders) - June 4-9, June 25-30, July 9-14 or July 23-28
Bay Voyager (rising 9th-12th graders) - June 18-23
Oceans Alive (5-8 year olds) - June 16, July 21, and July 31
BIO Blitz (8-10 year olds) - June 9, June 23, and August 1
Survivor: Dauphin Island (10-13 year olds) - June 16, July 28, or August 2
Marine Science Course (9th-12th graders) - June 25 through July 21
 - approved for high school science elective credit by the Alabama State Department of Education
For more information on any of these camps, click here or contact DHP Registrar Sara Johnson for more information via email at DHPSummer@disl.org or by phone at (251)861-2141, x7515.