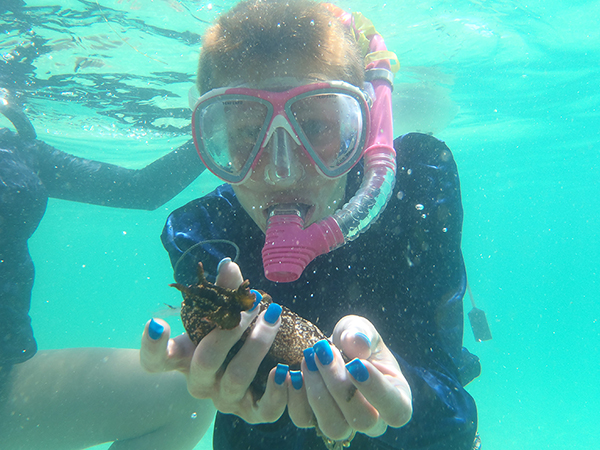 Students from six states spent four weeks at the Dauphin Island Sea Lab immersed in marine science for  Discovery Hall Program's Marine Science Course for High School Students. The annual program aims to broaden the base for students interested in studying marine science in college. 
 
Students spent time in the field learning about salt marsh ecology, marine vertebrate zoology, invertebrate zoology, marine botany, deep sea biology, plankton ecology and more. Their lessons included collecting samples, analyzing the data and conducting their own research. The students also go off-site for two field trips: a behind the scenes tour at the Audubon Aquarium of the Americas in New Orleans and snorkeling at St. Andrews Bay in Florida.
 
"A humbling experience, but a very knowledgeable one as well. You're challenged to be a better person," EJ Aloria of Wetumpka, Alabama said of his experience. 
 
Aloria was one of two students that attended the program on a Sea Grant scholarship. Emily Pinkston was the second scholarship recipient.
 
Many students that take the high school course find their way back to the Dauphin Island Sea Lab as college students and counselors. Students like John Ness and Gen Kirstein said the high school program left a lasting impression and impacted their higher learning decisions.
 
"My time during the summer high school course was what I remember as some of the best times during my high school career," Ness, who spent his third summer at the Sea Lab as a counselor, said. "The course style influenced me in the college that I eventually decided to attend. I am very thankful for the course. It was my first step into a field of study which I still find to be most interesting."
 
Kirstein said her college plans originally included Western Michigan University, but after attending the high school course she changed her mind. 
"Two weeks into the course, I called my parents and told them that instead of just a biology degree, I wanted to pursue marine biology and in the state of Alabama, so, I could come back to the Dauphin Island Sea Lab in the future," Kirstein said. 
 
Kirstein attends Troy University and spent the summer studying at the Dauphin Island Sea Lab through University Programs.
 
"I feel any student who is eager to learn, loves the ocean, and is willing to put in some hard work should take advantage of the high school course," Kirstein said. "It is a very involved class, but makes for a fun and exciting summer! We learned information that I would have never had otherwise."
 
Dr. Ishara Ramkissoon with the Emerging Scholars Program through the University of South Alabama echoes the high praises for the class. 
 
"The program is so detailed and so thorough that the students actually come away with a breadth of knowledge about marine science that really cannot be equated to anything else I know," Dr. Ramkissoon said. 
 
This year's class included five Emerging Scholars: Benaja Allen, Kelly Blaksher, Derek Dang, Filip Krutul and Linda Wyatt. 
 
Ansley Chaplin attended the program on the R. Quackenbush Scholarship, completing a research fellowship with Dr. Jeffrey Krause at the Dauphin Island Sea Lab. 
 
The course is approved by the Alabama State Department of Education, allowing students to earn high schol credit.
Marine Science High School Course 2016 Quick Look from Dauphin Island Sea Lab on Vimeo.