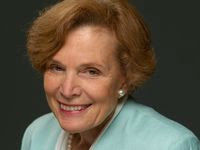 The Dauphin Island Sea Lab Foundation announced the winners of its Marine Environmental Award, and the speaker for it's awards luncheon. 
Each year the foundation recognizes an individual and a business or organization whose efforts have resulted in the improvement of marine environmental sustainability in the Alabama Gulf Coast Region. The winners will be recognized at Marine Environmental Awards Luncheon in November. 
The speaker for this  year's luncheon is the award-winning scientist Dr. Syliva Earle. Earle has led more than a hundred expeditions and logged more than 7,000 hours underwater, including leading the first team of women aquanauts during the Tektite Project in 1970; participating in ten saturation dives, most recently in July 2012; and setting a record for solo diving in 1,000-meter depth. Her research concerns marine ecosystems with special reference to exploration, conservation, and the development and use of new technologies for access and effective operations in the deep sea and other remote environments.
The individual winner of the Marine Environmental award is Sam St. John, president and CEO of Logical Computer Solutions in Mobile. 
St. John active involvement in organizations such as the Fowl River Area Civic Association, Muddy Water Watch, Coastal Conservation Association, and by serving on both the Alabama Coastal Foundation and Mobile Baykeeper Boards are testament to his passion for our environment. In addition to his civic commitments, St. John has bought and placed osprey platforms along Fowl River, built and distributed wood duck boxes to all his neighbors up and down the river, and helped plant cypress trees throughout the Fowl River watershed.
The Alabama Coastal Foundation was recognized as the group winner. Founded in 1993, the Alabama Coastal Foundation (ACis a non-partisan, non-profit organization with the mission to improve and protect Alabama's coastal environment through cooperation, education, and participation. ACF's education and volunteer engagement activities aim to inspire and empower current and future leaders to address Alabama's environmental challenges.
The 5th annual Marine Environmental Awards Luncheon will be held on Tuesday, November 1 at the Renaissance Battle House Hotel. To reserve your seat at the luncheon visit, sealabfoundation.org.