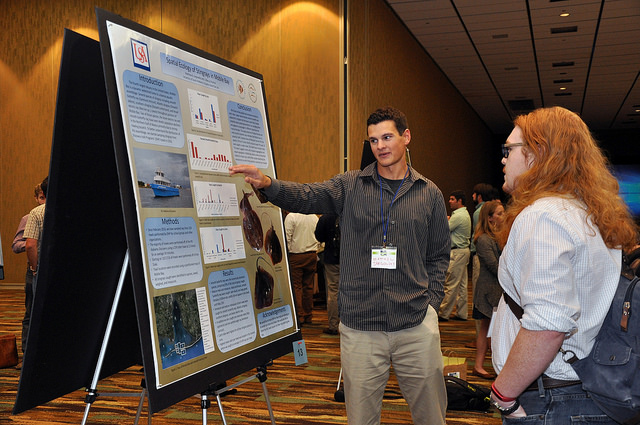 The Mississippi-Alabama Bays and Bayous Symposium held in Biloxi after the Thanksgiving holiday offered Dauphin Island Sea Lab scientists and students a chance to share their research and findings with their constituents. The symposium held every two years gathered scientists from across the southeast and focused on coastal science research, education, and outreach in the northern Gulf of Mexico. 
The theme for the 2016 Bays and Bayous Symposium was 'From though to actions: Restoration on the Gulf Coast'.
Several Dauphin Island Sea Lab students participated in the oral and poster presentation competition with Erin Bohaboy (oral) and Alex Rodriguez (poster) placing in the competition. 
For the oral presentations, judges evaluated the students on presentation style, audiovisuals, organization and timing, understanding of subject matter and clarity of descriptions of their research methods and results. 
Ph.D. student Erin Bohaboy won first place with her oral presentation on 'An Assessement of Spotted Seatrout (Cynoscion nebulosus) stock status in Alabama waters'. Bohaboy performed the first age-structured stock assessment of spotted seatrout in Alabama, presented evidence of environmental influence on stock dynamics and suggested that this important recreational stock may be overfished.
"I thought Bays and Bayous 2016 was a fantastic experience," Bohaboy shared. "It was a great opportunity for me to feel more connected with fellow researchers, students, and marine resource managers to the west, especially since I have most of my collaborations and field work in Florida. I especially enjoyed meeting the MS-AL Seagrant Staff, talking with students and faculty from GCRL, and seeing all of the very well done presentations and posters by DISL student and faculty."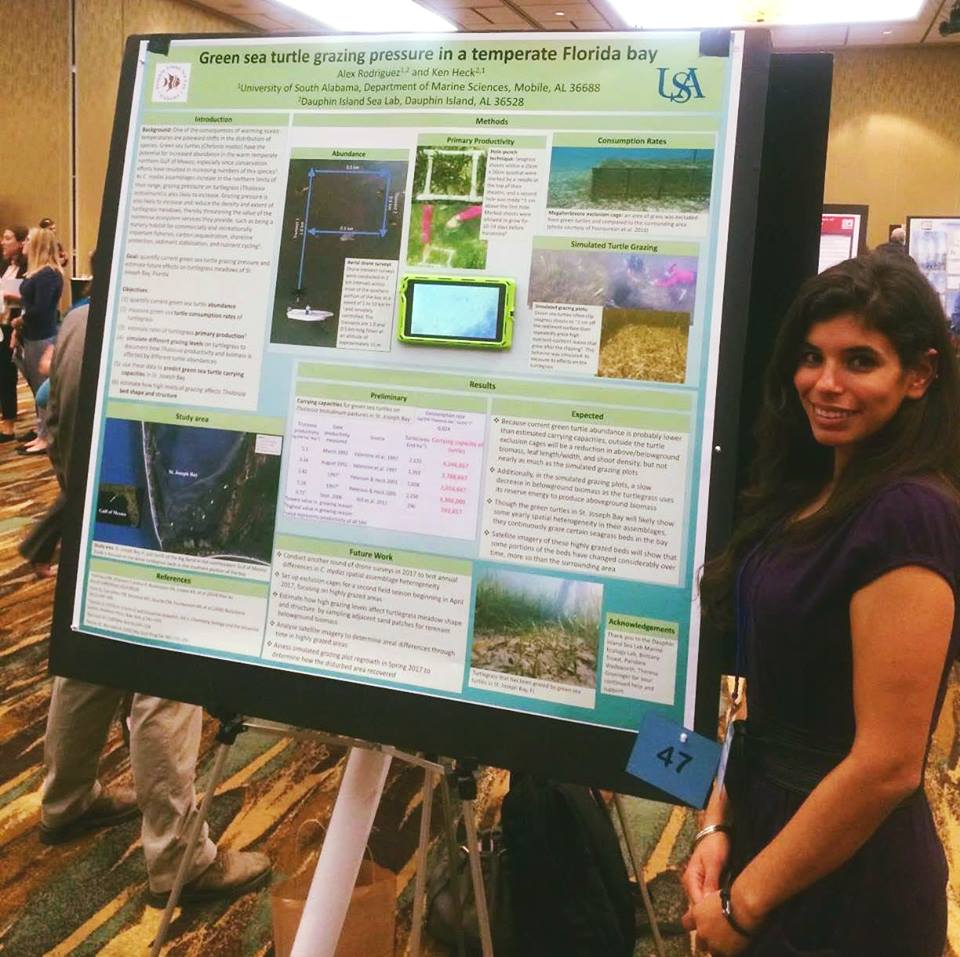 In the poster presentation competition, judges evaluated the presenter on knowledge and enthusiasm, organization, project introduction, research methods, results, conclusion and audiovisuals. 
From the Dauphin Island Sea Lab, master's student Alex Rodriguez earned second place for her poster 'Green sea turtle grazing pressure in a Florida bay.' Rodriguez documented the role of green sea turtle grazing on the sea grass habitats. Her work documents how impacts on sea grass habitats will increase as green sea turtle populations increase.
"Hearing all of the amazing research coming from the Gulf of Mexico was very informative," Rodriguez shared of her experience. "It was interesting learning about results regarding the oil spill studies, I'm glad it had it's own session. It's exciting to be a part of all this great research."
For a list of all participants in the 2016 Bays and Bayous Symposium, click here. Also, learn more about the symposium by visiting the Mississippi-Alabama Sea Grant website.