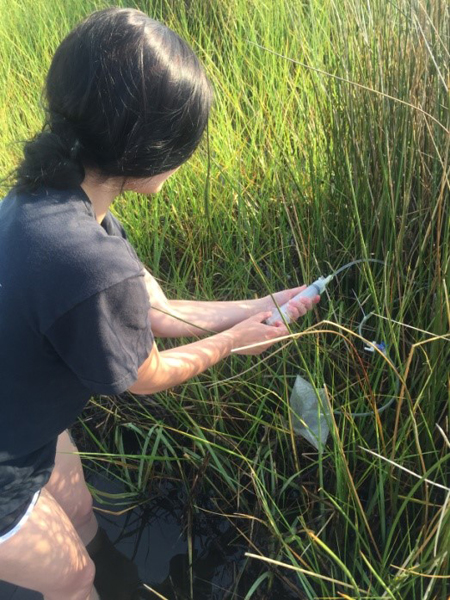 Each month, The Skimmer spotlights a person or group on campus at the Dauphin Island Sea Lab.
This summer, the Dauphin Island Sea Lab granted eight undergraduate students fellowships in marine science through the National Science Foundation Ocean Sciences Research Experience for Undergraduates or the REU program. Nearly 200 applied for the opportunity.
REU's who are chosen to participate in the 10 week program perform independent research projects with the guidance of a Dauphin Island Sea Lab mentor.
The REU program provides undergraduates with invaluable experience as they acquire lab research skills, knowledge of basic field work, and the tools needed to present and interpret data among many other rewarding experiences.
Brittany Zepernick from Cleveland, Ohio is one of the eight. Zepernick is a rising senior attending Bowling Green State University majoring in biology with a specialization in marine and aquatic science and also with a minor in chemistry. Her mentor is Dr. Jeffrey Krause in the phytoplankton ecology lab.
Zepernick's individual project focuses on the phytoplankton biomass and composition when you have a variety of dissolved organics in the water. Zepernick sees the benefits of the REU program lasting for years after her 10 weeks end.
"It's really good to build that social network and to become established in the scientific field where you can contact these people in the future and maybe even return to Dauphin Island later on," Zepernick said.
Haley Lescinsky from Columbus, Ohio appreciates the ability to dig in to her research with the REU program.
"I'm so excited to just dive deep into a hands-on project of my own and work with people as talented as the staff at DISL," Haley said, "I feel like the REU students as well as all of DISL are just a highly motivated group and I'm excited to be a part of it and learn from that community."
Lescinsky, a rising junior majoring in math and biology at Williams College, is working with Dr. Kelly Dorgan in the benthic biology lab. She is studying the sediment oxygen demand under hypoxic conditions for her research project. Lescinsky is from Columbus, Ohio.
For more information on the REU program at the Dauphin Island Sea Lab, visit www.disl.org/university-programs/reu/.
Photo: REU Brittany Zepernick collects samples of rhizosphere pore water. The samples are brought back to the lab where Zepernick extracts the dissolved organic matter from the rhizosphere pore water.