Each month, the Skimmer spotlights one of the many talented people on campus at the Dauphin Island Sea Lab. This month, we shine a light on Discovery Hall Programs Educator Jenny Cook. She has spent more than 30 years teaching the K-12 programs.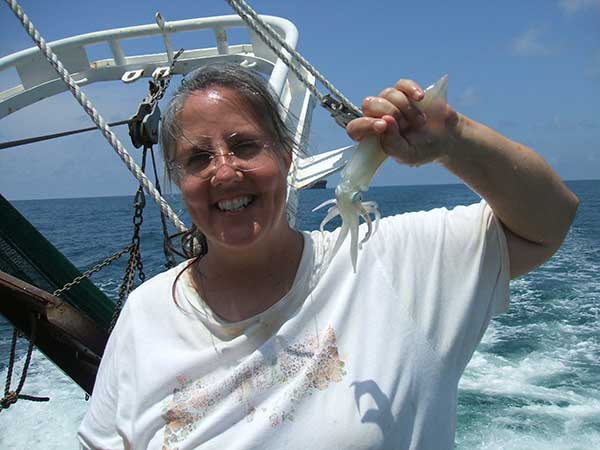 I was seven years old.  The year?  I'll keep you guessing.  The location?  The east end of Dauphin Island.  The story begins something like this.  
It was a hot summer day.  My family and I were fishing in the bay when I spied a shallow tidal pool nestled in the sandy beach.  A smelly shrimp attached to the hook of my cane pole became bait for the biggest shark I had NEVER seen in that puddle.  Shrimp after shrimp, attempt after attempt, I'd yank and pull on that flimsy rod only to pull up an empty hook. That shark got bigger with every try and so did some blue crab's belly, I'm sure.  That was the day the shark got away, but I didn't. I was hooked!  Little did I know, I'd spend the majority of my life chasing the fish on Dauphin Island.  It's now been more than 30 years so far.  
So, how did I end up at the Sea Lab?  There were so many good folks who helped along the way.  There is not time here to name them all.  I'll acknowledge the author, though, who penned some of the most important pages in my career's history.  A tremendous amount of emotion wells up when I mention her, Judy Stout.  She was the leader I followed into teaching about our Gulf Coast.  She was the professor at the Sea Lab who taught my first class in ocean science.  She was the leader of my first field experience in a salt marsh.  She was my major professor during graduate school.  More importantly, she was my mentor and is my friend. She set the bar high, as she should have.  She ingrained in me what it means to be the Dauphin Island Sea Lab and the responsibilities that come along with that.   We do the marine research and education of the State of Alabama.  We're it.  We're Alabama's program. That's so important.   
I am so grateful to have been an educator in the Discovery Hall Programs (DHP) all these years.  It's through these programs that the Sea Lab reaches out to everyone  with an invitation to explore the ocean.  Our research at the Sea Lab is world-class.  I so enjoy learning what our scientists are discovering and sharing that with my students, young and old.  
I love teaching.  I love the ocean.  Marine education is a wonderful blend of the two.  My goal has been to make a difference in students' lives.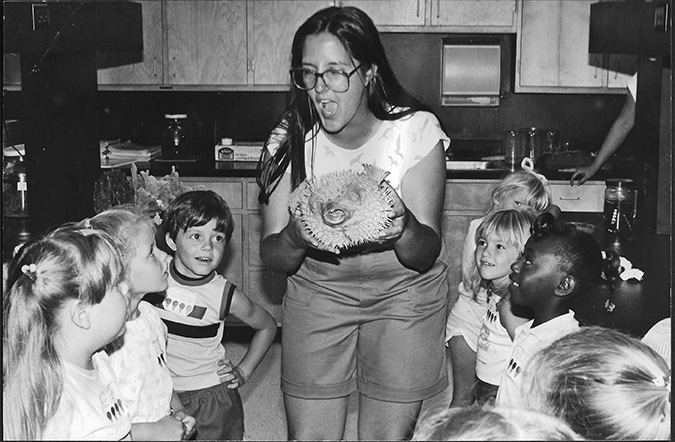 The mission is not to turn everyone into a scientist.  It is, instead, to expand their appreciation and awareness of our ocean planet.  
There have been so many memorable moments, it would be difficult to pick just one.  Here's the latest, though.  I was traveling not long ago with our BayMobile outreach program.  We take the beach to students who would have a difficult time getting to the coast.  Some of these children have never been outside of their own neighborhoods.  One tiny kindergartner stands out at the last school I visited. 
This little girl sat up straight and looked me in the eye.  "Have you ever seen a mermaid?" she asked. She was intense.  She was serious.  I gently answered and explained that I never have.  I then took the opportunity to teach about the skate's egg case (which is often called a mermaid's purse).  I ended with sharing that our imaginations are wonderful things.  May we never lose that creativity and wonder. 
The Sea Lab's programs and facilities have blossomed over the years.  It's been a beautiful thing to watch.  Each person that has worked here has painted their own brush strokes into the picture we see today.  There have been so many dreams, so many ideas, and so much hard work.   
It's an exciting place and an exciting time at Dauphin Island Sea Lab. I am so very grateful to be a part of it.