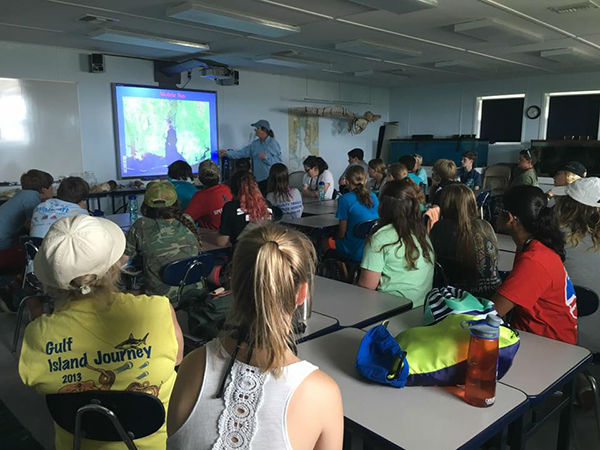 Discovery Hall Programs (DHP) is once again gearing up for a summer full of fun! Summer 2016 dates are set, and enrollment for summer camps is now open.
A hit among students, the overnight camps Barrier Island Explorer and Gulf Island Journey, should fill quickly, so parents should plan on enrolling their children early. Ocean science and hands-on adventures are packed into every second of these popular programs. For rising 5th-6th graders, Barrier Island Explorer will have three sessions to choose from: June 5-8, July 5-8, or July 31-Aug 1. Gulf Island Journey, for rising 7th-9th graders, will be offered in four sessions: June 5-10, June 19-24, July 10-15, or July 24-29.
Our single-day camps are back to bring some variety to your summer days. The ever-popular Oceans Alive mini-camp, for 5-8 year olds, will be offered June 24, July 8, and July 29. Survivor - Dauphin Island, always making a splash with 10-13 year olds, returns June 10, July 1, July 21, and Aug 1. New this summer is BIO-Blitz camp, for 8-10 year olds, combining island exploration, marine animals and scientific observation on June 17, June 29, and July 22.
DHP is now accepting applications for our Marine Science Course, for high school students currently in 9th-12th grade. This month-long academic program is ideal for students interested in testing the waters for studying marine science in college, and can be taken for high school credit! The Marine Science Course will take place June 19 – July 15, 2016.
Please visit our website (http://www.disl.org/summer_programs) or contact DHP Registrar Sara Johnson for more information, DHPSummer@disl.org or 251-861-2141 x7515.