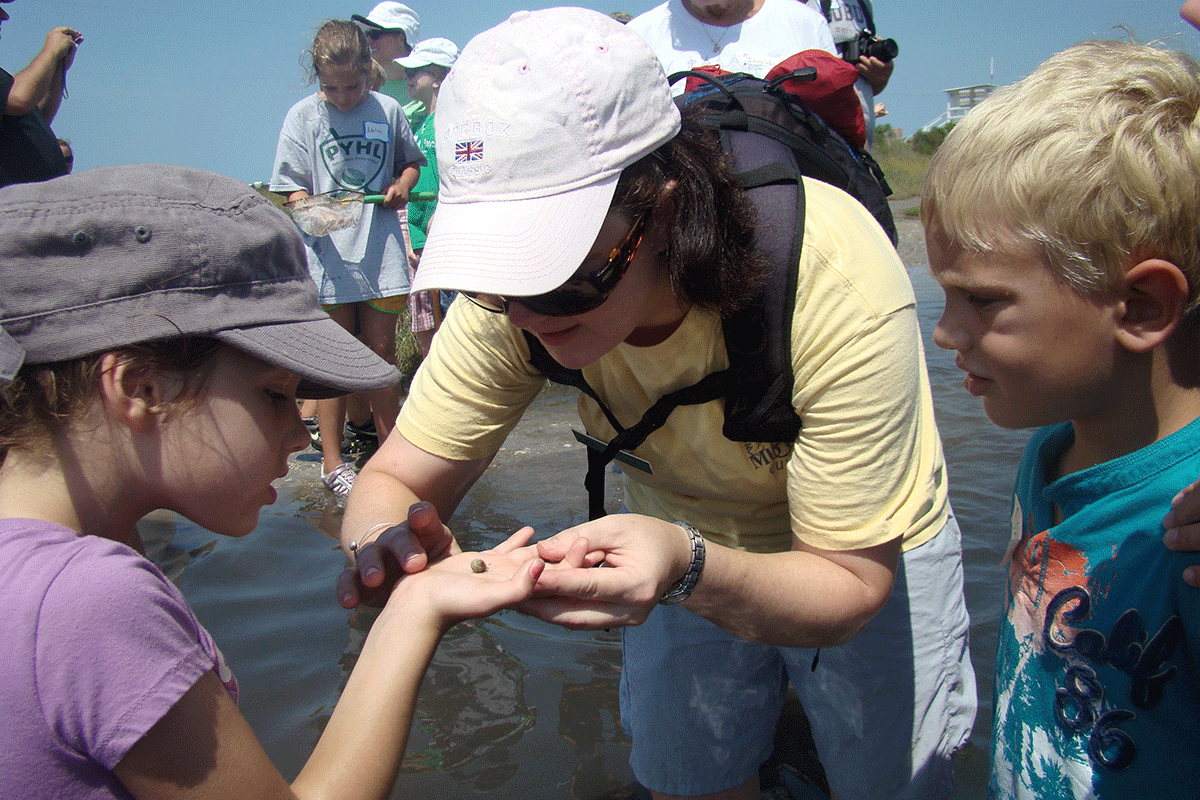 Adventure awaits you at the Dauphin Island Sea Lab this summer. Excursions for everyone and summer camps for the school aged children deliver more than just another day at the beach. Plus, the Estuarium, our public aquarium, is open seven days a week.
The Estuarium at the Dauphin Island Sea Lab hosts two types of excursions a variety of days during the summer. 
Salt Marsh: Learn why the coastal wetlands are critical to our estuary system during our Salt Marsh excursion. Participants will be transported to the Dauphin Island salt marsh to collect samples such as crabs, snails and fish with seine nets, yabby pumps and sieve boxes. Don't worry about getting dirty on this trip, we do have showers and a changing area available. (Due to the sharp shells, pointy plants and other potential dangers, this trip is not recommended for pre-school children.)
Beach Dune and Maritime Forest: Have you ever wondered why you're told to stay off the dunes at the beach? During our Beach Dune and Maritime Forest excursion, you'll learn about the dynamic dune system, its fascinating plants and animals, and how the Indians and colonists benefited from the flora and fauna. Make sure to wear a pair of walking shoes you don't mind getting wet.
Excursions are $12 a person and children 18 and under must be accompanied by an adult. Space is limited and reservations are recommended.  Learn more about summer excursions here.
The Dauphin Island Sea Lab's Discovery Hall Programs also hosts three types of day camps during the summer.
Oceans Alive! (Ages 5-8) The Gulf of Mexico offers a wealth of material for developing minds and curious senses. The half-day adventure combines a beach walk with arts and crafts for a lesson in marine biology and ecology.
BIO Blitz (Ages 8-10) Campers will spend the day as Barrier Island Observers with an expedition across the diverse habitats of Dauphin Island. They will document their findings on the beach, in the salt marsh and in the maritime forest with the help of various creative mediums. Space is limited to 15 participants.
Dauphin Island Survivor (Ages 10-13) Become a Dauphin Island Survivor by learning how to live off the land. Campers will go crabbing and fishing using various methods, and then get an inside look at the catch of the day. Space is limited to 15 campers.
Learn more about the Day Camp options here.