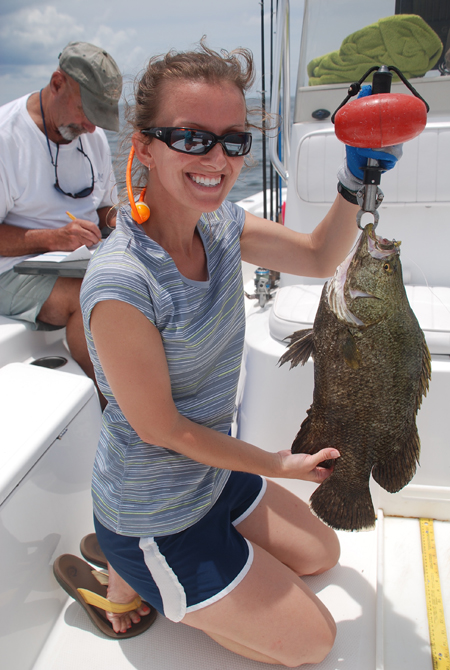 The Atlantic Tripletail (Lobotes surinamensis), or Blackfish, is a warm-water marine fish aptly named for the appearance of its fins. The dorsal (top) and anal (bottom) fins are rounded and set back near the caudal fin, or tail, making it appear as three tails.
Due to increasing regulations on offshore fishery species, there may be more Tripletail being caught in Alabama's coastal waters. With potentially increased fishing pressure, and a species that has been historically understudied, Dauphin Island Sea Lab scientists would like to know more about the biology of this species.
Tripletail is a migratory species, but where it goes, where it spends its time, and how many of them are out there is not well-known in the Gulf of Mexico. These are important to consider when managing the harvest/catch of this species.
Recreational fishermen and guide captains in Alabama have told Dauphin Island Sea Lab scientists that they are seeing smaller-sized fish and that they are not encountering as many as they used to. This leads researchers to ask whether these observations are part of a natural fluctuating cycle in the population or an early sign of overharvesting.
Three researchers at the Dauphin Island Sea Lab have started a Tripletail tagging project to get a look at Tripletail population sizes and movements.
Drs. Meagan Schrandt, John Dindo and Sean Powers are partnering with Dauphin Island area guide captains with the hopes of tagging around 300 fish this spring/summer. All the fish will be weighed, measured, and tagged with a white-colored spaghetti/streamer tag on the left side of the fish near the dorsal fin before being released back into the water.
As fishermen re-capture these tagged fish and call in the information, Drs. Schrandt, Dindo, and Powers can begin to look at when/where these fish move and estimate a population size in Alabama's coastal waters.
What YOU can do:
This particular type of tagging research heavily relies on the information gained from the fishermen who catch the tagged fish. The Dauphin Island Sea Lab scientists ask fishermen to pay attention to tagged Tripletail and call the number on the tag to report the date, location, weight and length of the fish. If you decide to harvest the fish, the researchers also request saving the carcass – (yes, you can keep the fillets!) – so, even more information can be collected, like age of the fish and life cycle information.