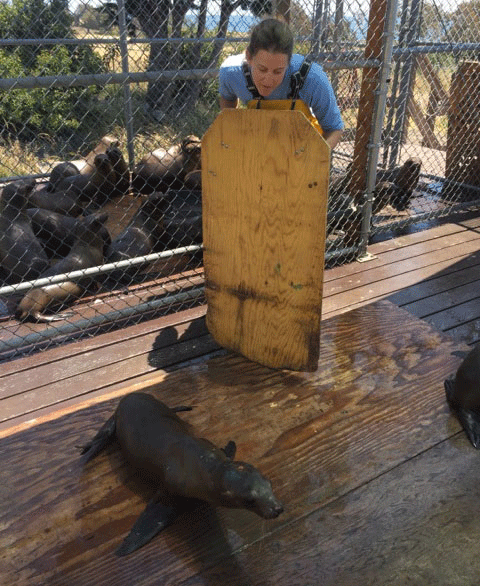 Alabama Marine Mammal Stranding Coordinator Noel Wingers traveled to the California coast at the beginning of May to assist the Channel Islands Marine & Wildlife Institute (CIMWI) in caring for sick and malnourished California sea lion pups.
Unusually warm waters and a 142,800 gallon oil spill in 2015 have contributed to a stark increase in stranded pinnipeds (sea lions and seals) found on southern California beaches. CIMWI provides stranding response to Santa Barbara and Ventura counties, and serves as the rehabilitation facility for affected pinnipeds in the region.
While at CIMWI, Wingers assisted with various animal care tasks including preparing meals and providing medical care for young sea lions housed at the facility. Wingers helped ready the successfully rehabilitated animals for release back into their natural environmental, which is the ultimate goal of the rescue and rehab program. Wingers also participated in necropsy events at CIMWI, helping to collect valuable data on the health of the Channel Islands pinniped population and the surrounding marine ecosystem. 
"Working with CIMWI was a fantastic experience," said Wingers. "It is a great feeling to be a part of the rehabilitation process and to see firsthand the now-healthy animals return to the wild."
If you see a stranded or distressed marine mammal in Alabama, please call 1-877-WHALE-HELP (877-942-5343) immediately to speak with stranding network officials at the Dauphin Island Sea Lab, and NEVER attempt to return stranded marine mammals to the water.