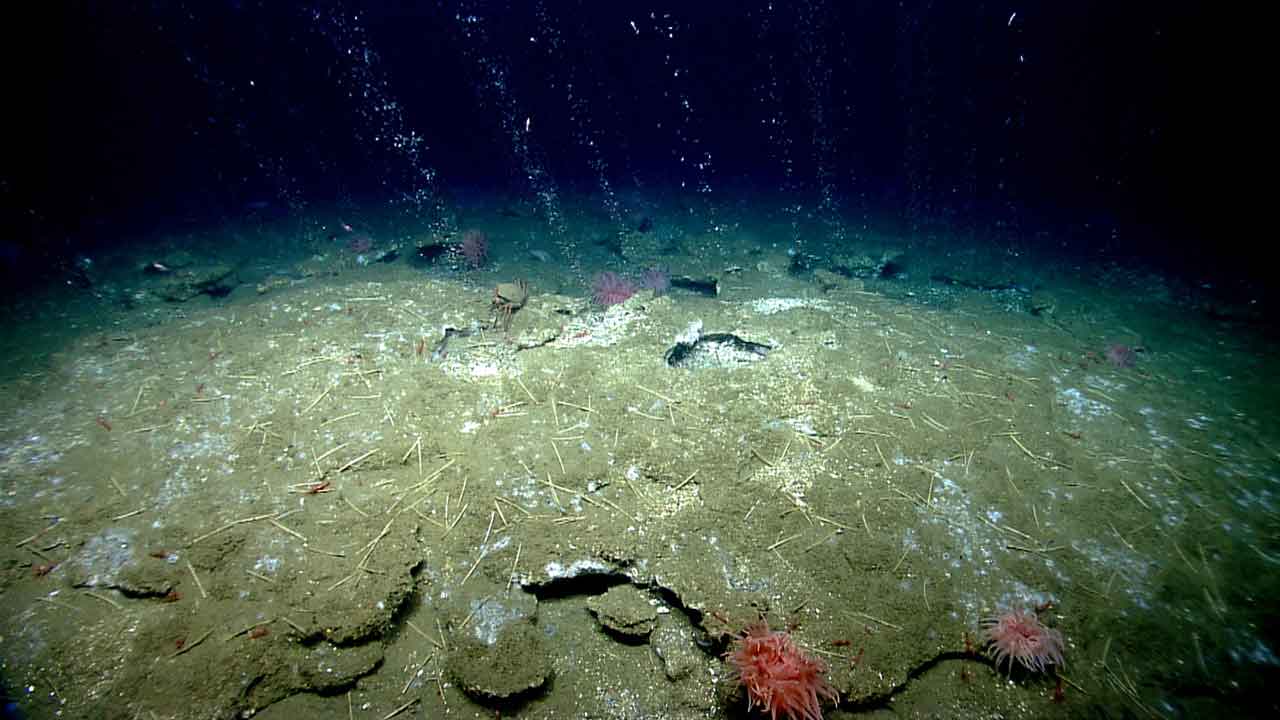 Methane bubbles flow in small streams out of the sediment on an area of seafloor offshore Virginia, north of Washington Canyon. Quill worms, anemones, and patches of microbial mat can be seen in and along the periphery of the seepage area. Image courtesy of
NOAA Ocean Exploration.
Date: April 6, 2023
Time: 4:30 p.m. CST - NOAA OE Virtual Event
Registration: A refundable registration fee is required. Fees will be refunded upon completion of the workshop. The Dauphin Island Sea Lab is handling the registration for this workshop.
Educators of grades 6th through 12th grades are to join a NOAA Ocean Exploration Facilitator on April 6, 2023 at the Dauphin Island Sea Lab for a 90 minute, virtual professional development workshop.
Together we'll explore the wonder of cold seeps investigating what are cold seeps, how and where do they form, and how do they support biologically diverse communities in the absence of sunlight?
This fun filled, 90 minute virtual workshop will include:
A brief video introduction to the geology and biology of cold seeps
Demonstration of a student investigation designed to guide student sensemaking of cold seep phenomena
Reflection and discussion with peer educators
A guided tour of the free, online educational resources available from NOAA Ocean Exploration and the Deep Ocean Education Project website.
Registration is REQUIRED and space is LIMITED.
Registered educators will receive a collection of classroom ready resources, a NOAA Ocean Exploration Certificate of Participation, and a $75 stipend.
Please email DHPWorkshops@disl.edu or call (251) 861-2141 x7515 with any questions.
NOAA Ocean Exploration is our only federal program dedicated to exploring the deep ocean. Through a partnership with the National Marine Sanctuaries Foundation, NOAA OE supports a series of professional development opportunities for educators to engage their students in learning more about the deep sea. Through their Education Alliance Partners, these workshops introduce participants to deep sea topics, provide phenomenon-based student lesson plans and connect educators with research, experts and ocean explorers.