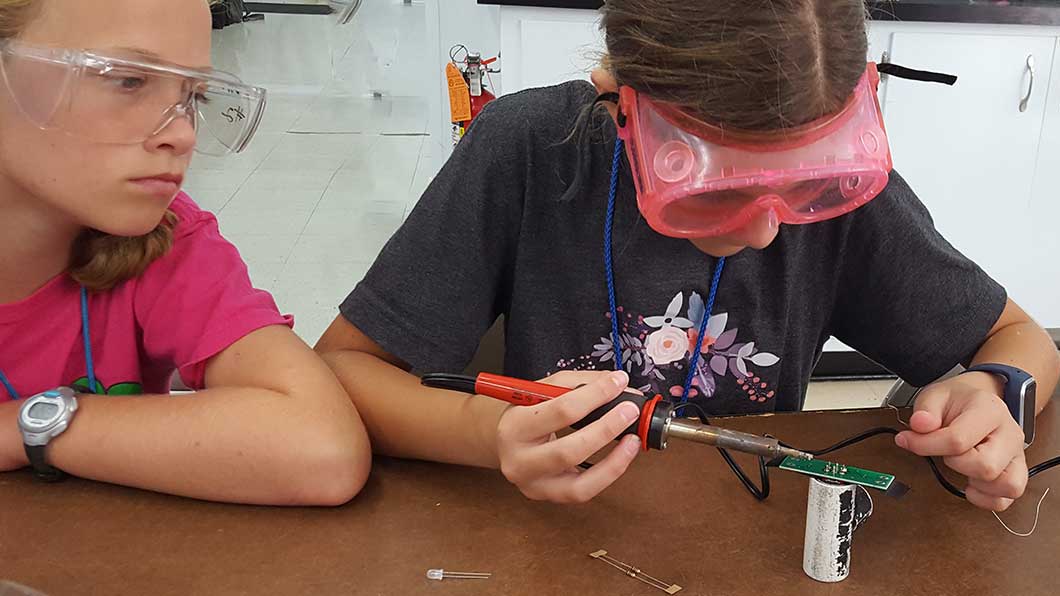 For rising 7th-8th graders
2023 Dates: June 11-14 (Full)
Program Cost: $450
Camp registrations are processed in the order in which they are received.
Calling all technology sleuths! If you are interested in robotics and engineering then this camp is for you! Students, rising 7th through 8th grade, will uncover marine technology through hands-on activities including how to build a simple robot, solder components on a circuit board, design and build a remotely operated vehicle (ROV) for a mini competition, and much more!! In this 4-day, 3-night camp students will bring out their inner deTECHtive to discover 'what is technology?'.
The camp will feature various hands-on group activities encouraging students to think like an engineer. The stakes are high as they design, build and test various technologies in preparation for an underwater robot challenge.
Program Cost: The cost of this program is $450 and includes tuition, room, meals, and lab fees. The $50 registration fee is part of the program cost and is non-refundable. The next payment of $100 is due when the camp release forms are returned. A balance of $300 will be due at check-in. The second tuition payment of $100 may be returned if notice of withdrawal is communicated to the DHP Registrar (in writing) at least seven days prior to the first day of camp.
Application Deadline: Please return the registration form with a $50 non-refundable registration fee to hold your child's space in this program. All checks should be made payable to Dauphin Island Sea Lab.
Student handbooks will be e-mailed to parents after May 1, 2023. ALL forms located in the student handbook (5 total) should be mailed in with your $100 tuition payment by the date indicated in the handbook email.
Mail applications to:
Marine DeTECHtives
Dauphin Island Sea Lab
101 Bienville Blvd
Dauphin Island, AL 36528
Email: DHPsummer@disl.edu
Fax to: (251)861-7421
The Dauphin Island Sea Lab reserves the right to cancel the program in the event enrollment is inadequate. Noncompliance with the rules of the program results in expulsion and forfeiture of the program cost.