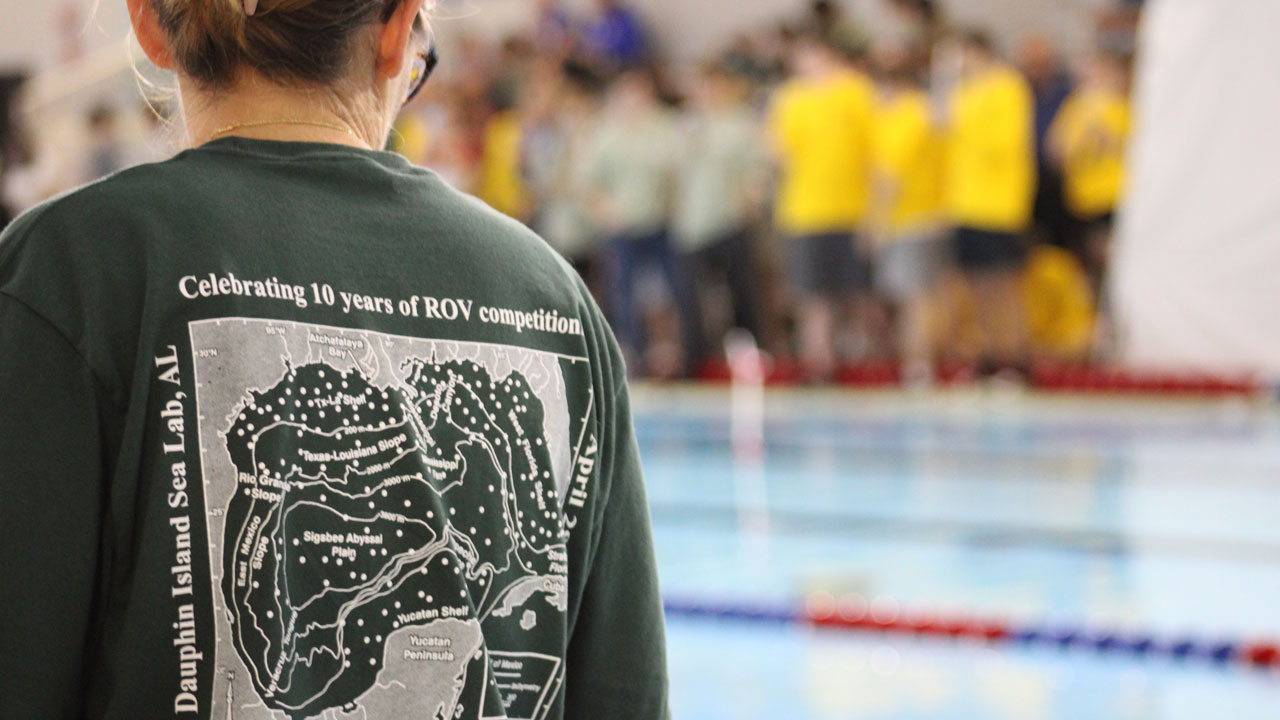 Dates: April 26 - April 28, 2024
Registration: Opens early February 2024
Registration Deadline: TBA
Location: Dauphin Island Sea Lab
Discovery Hall Programs hosts the annual Northern Gulf Coast regional competition for the Marine Advanced Technology Education (MATE) ROV Competition program.
In this competition, student teams, facilitated by their teachers/mentors/coaches, design, build, and test their own unique ROV before coming to the Dauphin Island Sea Lab to compete against student teams from across the Gulf coast in a series of science-based missions.
The 2024 regional competition will include SCOUT, NAVIGATOR, and RANGER ROV class competitions. This multi-day competition consists of two mission attempts, a marketing display poster, and an oral presentation. The competition is held over a 3-day period beginning Friday afternoon (safety inspections and a career panel discussion), followed by pool demonstrations (Saturday), and engineering design presentations and an award ceremony (Sunday).
The winner of the RANGER class qualifies for the International MATE Competition.
Keep in touch with all the happenings by joining our DISL ROV Competitions Facebook group.
The primary mission of the Marine Advanced Technology Education (MATE) Center is to provide the marine technical workforce with appropriately educated workers and to use marine technology to create interest in and improve STEM education. The MATE ROV Competition is about student learning. It is designed to be an event that challenges students to apply the physics, math, electronics, and engineering skills they are learning in the classroom to solving problems from the marine workplace. Mentors (teachers, parents, working professionals) are expected to limit their input to educational and inspirational roles and encouraged to focus on the benefits of the learning process and not simply on "winning" the competition.
Registration fees (payable online to MATE via credit card):
SCOUT - $75
NAVIGATOR - $150
RANGER - $250
For more information, please email rovcompetition@disl.edu or contact Discovery Hall's ROV Competition Coordinator, Rachel McDonald at (251) 861-2141 x5076.